Much of the current kettlebell enthusiasm is focused on time and endurance, and with good reason because for conditioning a kettlebell is a remarkable tool. But old-school strong man devotee David Whitley has gone in the other direction: He's using these chunks of weight to create exercises and combinations each one more difficult than the previous to execute, sometimes using a single kettlebell, but more often doubles, and occasionally two of differing weights, and sometimes even both of those in the same hand.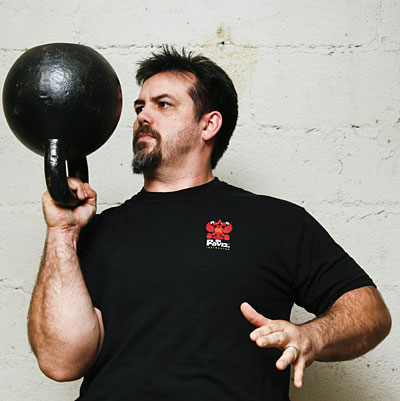 It's a grin to watch Dave perform, and it's also a pleasure to learn from him, as I did recently via his Full Body Power, Beyond the Basics intermediate and advanced kettlebell drill dvd. My notes are intense, three pages of mashed scribbles, as I studied his techniques covering variations of what he calls Follow the Leaders Series and his burpee combinations – think burpees with a single kettlebell or double kettlebells used for deadlifts, swings, cleans, high pulls, snatches, clean and press and clean, squat and press, all artfully tossed together to wipe out even the neediest Rocky fan.
The next day I joined the dvd for clean, squat and press variations, and after his refresher demonstrations, on to his advanced skills with the windmill and the Turkish get-ups. Next, he taught the kettlebell bent press and the two-hands anyhow. Shoulders plenty fatigued, I skipped out on the two-hands, but got fairly comfortable with the bentover screw-press, something I never in this lifetime expected to try, and more than a strongman circus lift, what it felt like was a significant shoulder stabilization exercise combined with unusual coordination. This twist, the screw-press, is a torso rotation you've probably never felt, and when coupled with stabilizing a heavy weight overhead is quite an experience if you notice those kind of things.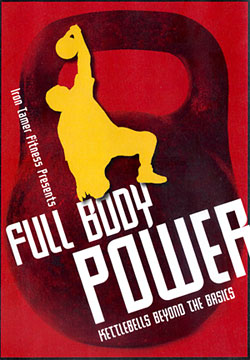 Throughout the dvd, Dave's providing commentary; for instance, at one point he stopped to explain what he called the two sides of performance:
Tension is strength. Tension is power. Tension is slow. Tension is fatigue.

Relaxation is speed. Relaxation is mobility and flexibility, and it's also a weakness. It's endurance, but it's weakness.

Tension is stronger, faster, but you give out sooner. Relaxation can go longer, but you're not as strong. Work tension and relaxation equally.
Now, I have to add at first I was a little disappointed in the editing. I was watching it as a lecture instead of a workshop, and wished the student participation breaks had been edited out. But then I realized I could get off the couch, ya lazy bum, and go get a couple of kettlebells to follow along, and suddenly those unedited breaks became a bonus opportunity to practice each exercise in real time. Note to self: When it's a workshop, do a little work, whydontcha.
At the end of the approximately 100-minute dvd – I apologize; I timed it for you, just under two hours, but forgot to make note of the minutes I stopped to scribble, and the dvd or website don't give the runtime – my final thoughts were simple: This is an outstanding dvd for a kettlebell lifter who wants to move beyond the common and into the physically demanding and unusual. Dave's a great teacher, and the exercise ideas and combinations are superb.
You can order this intermediate/advanced kettlebell workshop dvd here at fullbodypower.com, $49.95.
In this Fox Morning Show clip from Nashville, Dave explains kettlebell exercise and demonstrates with the reporter.
[youtube:http://www.youtube.com/watch?v=1Dn6gfwWxHQ]
Linking around:
In this article over at Pavel Tsatsouline's Dragon Door, Dave gives examples of how to extend your kettlebell drills in ways similar to some of the combinations found on the dvd.
His IronTamer site is here, where you can also sign up for the free IronTamer newsletter. Those interested in kettlebell training variety can grab Dave's free ebook of 101 different kettlebell workouts on signup.
Catch this strongman's regularly updated IronTamer blog here.
---