Now that Dan John's book, Never Let Go, begins to settle into its new spot on nightstands around the world, the reviews are starting to roll in.
Why, my mom, who appreciates the benefits of her gym training but who wouldn't recognize many of the tools Dan uses in his, wrote to tell me she'd gotten so caught up in Dan's prose she was late for an appointment this morning. Now that's saying something!
Let's keep these reviews together here in the blog for future readers — I invite you to write a review comment or leave a note for Dan in the comments section below.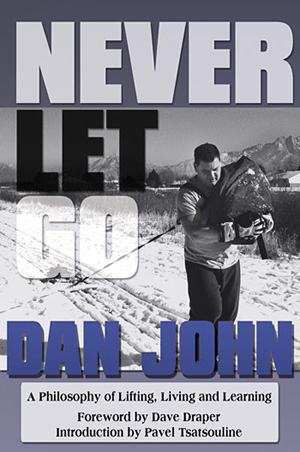 Writes Lyle McDonald: Dan John has been in the lifting weights since about the history of recorded time. He's seen it all, done it all, and tried it all. His knowledge and experience is encyclopedic… coupled with his willingness to share that information with anybody who cares to show interest For just about anybody involved in the field, I really can't recommend this book too highly. For those who are old and jaded like me, Dan may give you an insight into some decidedly old school approaches to training that flat out work. Click here to read his entire review.
In her review, Krista Scott-Dixon wrote, "I started reading Never Let Go while sitting on a deck with a friend who was reading a newspaper. By the second page in, I was exclaiming, "Let me read you this funny bit!" By the fifteenth funny bit, I gave up on interruptions and just read it out loud for several hilarious pages. We followed Dan's adventures through crappy workouts, the Velocity Diet, ridiculous contests of strength, and coming to terms with his belly devouring his belt. We plowed through programs to get strong, programs to get fast, programs that would probably, in the end, make me a better person for doing them as well as a better lifter."
And via Twitter and Facebook, I've spotted some fun one-liners, such as:
Eric Beard: Love never Let Go by Dan John, great pearls of wisdom mixed with humor, dedication and experience! Great common sense, training nuggets and humor mixed with philosophy. Will try a few ideas today.
Zach Even-Esh: I CAN'T put this book down!!
Click here to order your copy of Dan John's Never Let Go.
---