Gym Town, USA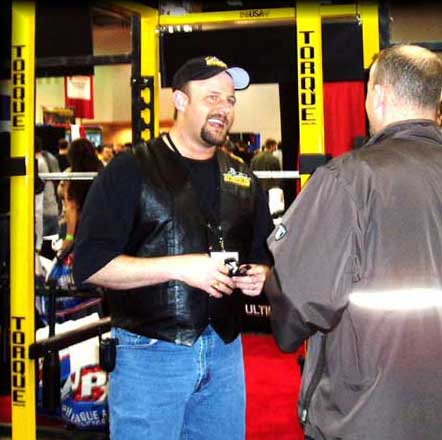 At the Arnold Classic in Columbus, this is Odis from Torque Athletic, standing in front of the Draper Dungeon power cage prototype, talking with our friend Tim Dooley.
If you'd like to download the full Draper here newsletter in live-link, pdf format, click here.
If you're an ordinary person (good grief, spare me) and suddenly find yourself standing in the middle of the Muscle Beach Dungeon, circa 1965, you'd think you'd died and gone to hell. Since you're a bomber, you'd think, "How cool. I died and on my way to heaven we stopped at the 'Gym of the Angels' for a quick pump and some inspiration."
"There's Methuselah's bench press, and that looks like the squat rack Moses used to strengthen his legs before climbing the Mount."
Today, except for a handful of honest steel mills and iron works claiming space in the "original districts" of small towns, you don't see any real gyms. They're gone, like barber shops, soda fountains, shoe repairs and authentic neighborhoods. Instead, they have frightening imitations with blinding bright lights, fantasyland equipment and enough pounding music to fill Carnegie Hall to the rafters. And the people who attend these garish gyms -- ahem, health clubs and facilities -- think this is where it's at.
There is one such gleaming showground in our community, aptly located in a former used-car dealership -- imagine a 25,000-square-foot, two-story cube of plate glass displaying equipment of chrome and bodies in Lycra. Laree and I passed the amusing 24-hour facility the other evening in our travels, and -- the girl's a riot -- she casually suggested we stop in for a quick workout. We simultaneously gasped, rolled our eyes and recoiled at the absolutely absurd idea.
But, wait...

For a few agonizing and surreal moments I imagined in detail the reality of Laree's bizarre proposal, forcing, first of all, the car into a tight turn at the corner and deliberately locating a parking place. Secondly, gathering our ever-ready gym gear before locking the vehicle -- which has an intelligence of its own and glared at us as if betrayed -- and heading for the entrance, a brilliant experience in itself illuminated by 10,000 watts, some of which blinked on and off eagerly to accentuate the 3-for-1 Special and the Free Trip to Hawaii. Opening the door was the third grief on the list of the visualized traumas, followed by saying "hi" to all 10 salespersons, shiny white teeth everywhere.
Smiles are stuck on faces like gum under scarred tabletops at the Pink Pussycat Lounge. Though I'm not the drinking type, the Pink Pussycat sounds good right about now. Later, maybe.
Past the front counter without losing our shirts, beyond the locker-room without losing our shorts and onto the gym floor without losing our way -- the place is huge: locker-rooms, bathrooms, saunas and hot tubs, pool, aerobic floor and 12 cubicles for chatting about memberships (never, ever enter one of these chat chambers without someone big to love and protect you) -- and there we are on display with the rest of the cast of animated characters. Now what?

Time to leave -- split, scram, evacuate, bail -- but not before we get one dazzling set so we can say, "We got one dazzling set before we left." A last incredulous look, a sigh of relief and out the closest Exit Door, or more appropriately, the Escape Hatch. Zoom, zoom, zoom.
The brief and screwy scenario caused me to pause and wonder which I preferred, the dimly lit YMCA weight room with improvised equipment and yellowing walls adjacent to the boiler room, or the flashy health club featuring banks of TVs, computerized machinery, high-tech devices and seductive comforts to distract and amuse the nouveau athlete warrior.
The answer, as usual, lies somewhere between. The gyms of a generation ago, the steel mills and iron works built by the devoted lifters themselves, were the best -- technically sound, intelligently laid out, sufficient equipped without intrusive excess, and committed to the cause of building muscle and power. What most of them lacked was money and business acumen.
Their current-day successor, available in duplicates and chains, has excess by the truckload, distraction in abundance, pretense in mass quantities, overflowing conformity, inestimably more greed than good deed, and frisky financiers.
It appears to me that the landscape of Gym Town in America, and elsewhere I presume, is changing and continues to change. Could it be the replacements for the neighborhood Ma-Pa or Joe-Bob gyms, the ubiquitous, artificial nation-wide Snappy McGyms, are no longer where it's at?

Folks are tuning to TV infomercials touting bungee stretching, bow bending and spring-pulling home-gym contraptions. They work. One can exercise at home and condition one's body if one is so inclined. The market is growing, and convenience and privacy are the selling features. No impossible cross-town traffic, no parking frustration, no crowded gym floor, no infectious diseases, no public embarrassment, no blaring music, no locker-room blues, no jerks -- just you and a buddy, maybe, whenever you chose. And you can play country-western if you want... show-tunes, mantras, Vaughn Monroe.
As the world becomes more crowded, more accelerated and less friendly, I, too, have considered training at home. Though I love the gym in which I train and it's one of the last remaining true weight trainer's gyms in the solar system, it is across town and increasingly out of reach. I am not alone. As the pros grow older, the gym experience, though precious as ever, often becomes more particular. Most pros, as I, would consider training at home if the home equipment wasn't so inferior -- the words undersized, ineffectual, tinker-toy and depressing come to mind. And outfitting a garage or basement with professional gear is costly in dollars and square footage.
I suspect one day I will ideally train twice a week at the gym and two or three times at home -- the gym for the atmosphere, friendly contact and specific movements and apparatus, and home for some meaty solo and silent iron engagement.
Training at home has its obvious benefits, but can be terribly boring, uninspired and painfully procrastinated. No enthusiasm -- no intensity, no intensity -- no growth, no growth, and your home gym becomes part clothes hanger and a fulltime source of guilt. A well-established private weight training area of limited space can be a retreat and the center for revitalized muscle, power and fulfillment.

I cannot consider for more than 10 seconds -- make that five -- the plight of training at home with inadequate benches, racks and pulleys, to say nothing of wobbly barbells and dumbbells. I can consider, however, the solution to the impending predicament. In fact, I have considered the solution for several years and the notion of resurrecting the plans is tempting.
Do you recall my mentioning the Draper Dungeon? When I first met Odis Meredith of Torque Athletic, a custom gym-equipment manufacturer from Indiana and the builder of my Top Squat and Stealth Bar, he suggested we develop a non-comparable, heavy-duty cage and bench for home use, with an assortment of nifty attachments I would insist on as a selfish, spoiled and pouty champion of the distant past. I strutted about our research and design headquarters (my kitchen) and contemplated the idea. "Yes, it has great potential, Big O," I said. "Let's give the seed time to take root in our subconscious and grow in design."
Time has done its deed.
We have already designed and tested the adjustable bench and power cage with plate holders and dip- and chin-bar built-ins. The seated and overhead cable systems are our final considerations, along with pricing and logistics and custom sizing for limited-space blueprints.
This is what I have in mind:
Draper's Dungeon -- an efficient, extra-heavy-duty, big-muscle, big-power, all-purpose collection of hardcore equipment designed for a small and sufficient floor plan: power cage, adjustable bench, lat pulldown, variety of handle attachments, seated lat row, EZ-grip chin bar, close-grip chin and dip bars...
No, this is not a newsletter devoted to product marketing, big bucks for the corporation, impressing the stockholders or gaining prominence before our peers and competitors in the field of muscle and fitness. There are only Laree and me, after all, and our net savings of $13.67. Oh, yeah, there's Odis and his talented high school buddies working in an old leaky barn on the south pasture of his dad's alfalfa farm. This is an opportunity to bring to the uncompromising lifter professional training mechanics and atmosphere and attitude to the evolving concept of home training. Big stuff for big training built to fit small hangars.
Mull it over in your fit and fantastic minds. No rush. We have the rest of our lives.
Just kidding about Odis and his operations. They are second-to-none, big-time, high-tech, first-class, top-notch and the best. It's their friendly, honest, small-town approach to business that stirs my whimsical portrayal.
Though it's December, chilly and full of celebration, there will be no skipping workouts or overindulging in food and spirits. Bombers are in control; they fly high, they soar, they glide and they land on a dime without a scratch -- they live it up and they live right.
God's strength and joy... DD
Why don't you click on over and check out our cool gift combos right now?
And you can grab yourself some Bomber Blend elixir here
Did you sign up for Dave's expanded email yet?
It's free, motivating and priceless!
We'll also send you a link to Dave's free Body Revival Tips and Hints e-booklet with your confirmation notice.