Haven't You Heard?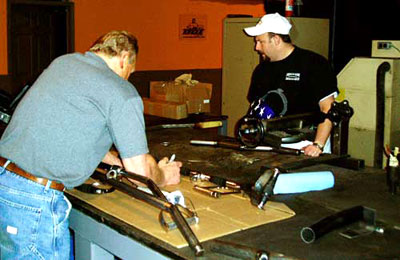 If you'd like to download the full Draper here newsletter in printable, live-link, pdf format, click here.
The countdown has begun, 17 days before the bombastic Bomber Bash. The three-day weekend officially begins Friday, July 8th, with workouts and a chinning contest at the World Gym Santa Cruz during the afternoon. In the evening the 100 incoming gather at Hangar #7 -- UCSC Inn -- to meet and merrily engage over musclebuilding food and a secret showing of top-security, mission-dedicated material, Don't Make Waves.
I suspect most attendees will turn in early having journeyed from the far corners of the US, as well as Europe, Australia and New Zealand. For the restless the Inn is located within walking distance of the charming downtown Santa Cruz Pacific Garden Mall, where unique shops and eateries line the old streets and a nightcap is sure to be found.
Saturday presents early workouts at the gym for the flex-starved traveler, the seminar at 11 am and a grand barbeque of steaks, chicken, fish and fixings in the woods immediately afterward. Bill Pearl, (*) an obscure physical culturist from the past, and Dave Draper, a former bodybuilding wanna-be, will share their old-fashioned and obsolete views on musclebuilding. The pair, a sort of accidental Abbot and Costello, is certain to provide a few laughs.
Things wrap up in the late afternoon and the re-formed and newly formed friends make their own plans to spend the remainder of the day. Rest, workouts, dinners and sightseeing fill their agendas. Selections include the Boardwalk and amusement park, the beaches and scenic coastline, movies and nightclubs or room service and HBO in one's comfortable hotel room.
Sunday offers a brunch at the Inn for good chow and lingering, fond farewells as many IronOnliners head for the road and the sky. The friendships gained are not skin-deep and short-lived; they are cherished and often the beginning of something much more. The iron does that, like a sweet love song or a heartfelt promise or a verse from a poem.
Those with more time on their hands will meet at the Yacht Harbor, Dock Double F, where the Chardonnay II, a 70-foot sailing yacht, is moored. At 3:30 the lovely seaworthy creature launches for a two-hour cruise of the Monterey Bay. The vast and mighty Pacific Ocean is an imposing view from the palisades of Santa Cruz, but from the enveloping sea the vision of the rugged California coastline is spectacular. As if that were not enough, fine wine and light food is served to heighten the experience.
Eventually, all good things must come to an end. Monday is Monday, chest, shoulders and back... nothin' wrong with that, I guess.
* I'll tell you how obscure Bill Pearl is: He's won Mr. Universe five times; '53, '56, '61, '67, and '71. He's trained our space-conquering astronauts (NASA) for conquering outer space. He's written four very popular books on exercise and nutrition including Keys to the Inner Universe, Getting Stronger, Getting in Shape and his latest, an autobiography, Beyond the Universe. He has 35 years of gym ownership and 55 years of training experience. He's traveled hundreds of thousands of miles around the world to preach health and fitness and, most notably, Bill loaned the Bomber his first pair of posing trunks in 1965.
ANOTHER FEATURE OF THE BOMBASTIC BASH
Allow me to stir your memory. I have recently become silent, reserving all conversation of the Draper Dungeon for the day of its momentous conclusion. That day is near.
I last saw the "dungeon thing" six weeks ago as an impressive and mean-looking pile of raw steel. We had made the final adjustments and retrofits; scraps of metal and abandoned tools lay on the shop floor and computer-generated sketches shared a broad table with yellow-lined pads marked with chicken scratches. The un-upholstered, untrimmed and unpainted parts attached to each other by odd screws and bolts comprised the whole, a nasty beauty in the eyes of Odis and me.
The beast, like a cocoon, is morphing into a lovely creature. A special textured gray paint accented by a lustrous black creates power and beauty at once. The overall largeness and thickness of metal everywhere is awesome and inspiring. Function in every detail encourages hard work, and costly hardware and unique applications add class. The presence of efficiency and absence of novelty contribute to integrity and importance.
Atmosphere and attitude are built into the Dungeon.
It's been crated in Indiana (USA), its origin, and is due to arrive at the Santa Cruz World Gym a few days before the Bash. There it will be constructed and ready for use by the bashers and anyone seeking a very cool workout experience. There it will be assessed, evaluated and in every way inspected and scrutinized. There its conclusion will be determined.
Odis and I will put the Dungeon through its paces along with the earnest international crew of test pilots. Changes will be recorded and attended.
Drop on by. Give 'er a whack. Anyone leaving fingerprints or smudges does so at his or her own risk.
THE MOVING HAND HAVING WRIT MOVES ON
Behind the scenes a bright and popular writer, Karen Orsi, is engaged in the process of reading, evaluating and compiling the 320-some IronOnline newsletters collected over the past six years. KO is not only bright, she's a sweetheart who trains rebelliously and can separate the good from the bad and the ugly, the wheat from the chaff and the musclebuilding proteins from the troublesome triglycerides. Her wit and keen observations lift up the IronOnline forum regularly.
The point of Karen's tedious project is to assemble 50 or 60 newsletters worthy for reprint into a book format. The collectors' book will include an interspersing of one-liners (that have stirred the intellectual world and caused mankind to rethink his purpose) and some loose yet inspiring artwork by the amazing hand and sensitive soul of Steve Cepello.
Laree and I hope to have the material updated, edited and published by late November. It will appear in paperback the size of Brother Iron, the perfect size for stuffing carefully hung stockings.
CONVENTION IS THE RULE OF THE UNINSPIRED
I no longer understand the thin bars commonly used in weight training. They are simply too small in diameter. Yeah, I'm a guy with larger-than-average hands, but the narrow bar of barbells, dumbbells and cable handles are inadequate for even a smaller-framed gal. The folks who set the standards in place years ago underestimated the efficient diameter size for the eager men and women about to embark on lifting weights in the years ahead.
The bar's narrowness causes the bar's resistance to concentrate on a small area of the hand, thereby effecting pain. Furthermore, there is less control of the bar with less mass to affix one's grasp. These two factors dramatically reduce the efficacy, keenness and brilliance with which one lifts weight.
Thick bars, of course, can be too thick and they can be too heavy. The solution is obvious. For your own comfort, function and musclebuilding advancement find the bar size and weight that suits you -- someplace in the middle, someplace just right.
One-and-three-eighths inches in diameter is that place of commonality. (Believe it or not, I interviewed and fitted between one and 10,000 men and women with different bar thicknesses and they unanimously agree.) As bars of 11-gauge cold-rolled steel, they need not be solid to be sufficiently strong and are thus not too heavy for any hand strength.
We now have a unique assortment of these bars in stock, lightweight and easy to carry. They are enablers, tools of commitment and badges of courage. See www.thickbarhandles.com for review. A new bent-bar with revolving Olympic plate holds for curls and triceps extensions has been completed and will be added next week.
American-made quality is a prize possession. It is rare. It is not cheap. It's yours.
DO OR DIE
If you can do nothing else this week worthwhile, go to the gym and do the following:
Barbell curls and machine dip supersets, 10 sets of 10 one day.
Bench press and widegrip pulldown supersets, 10 sets of 10 another day.
Leg presses and deadlift supersets, 10 sets of 10 a third day.
Walk and stay busy and eat right on the off days. Count the good things in your life (your spouse, your pet, your awareness, your miraculous sight, your limbs, your abilities, your discipline) and -- without foolishly ignoring -- don't dwell on the bad (your limitations, tragedies broadcast daily, the enemy, the scratch on the car door... Oops! What scratch on what door? That wasn't there yesterday. Wendy. We need to talk. Now!).
Me and my big mouth. I'll be up in the sky behind a cloud if anyone asks.
Zoom... Draper
Dave's new Thick Bar Power Handles will energize your workouts
Other new pages of the website to inspire your training
Did you sign up for Dave's expanded email yet?
It's free, motivating and priceless!
We'll also send you a link to Dave's free Body Revival Tips and Hints booklet with your confirmation notice.