Smash Bash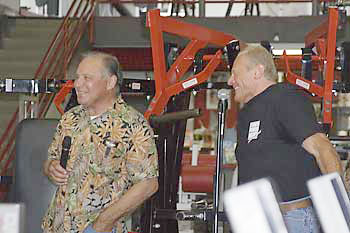 If you'd like to download the full Draper here newsletter in printable, live-link, pdf format, click here.
The Bomber Bash has come and gone with the roar and power of a speeding freight train. There were whispers of people arriving from different parts of the planet as early as Wednesday, sightings on Thursday and by mid-morning Friday they had formed at the World Gym into an eager and boisterous crowd. Cheering spectators for the chinning challenge spilled out the backdoor as the grinning, determined contestants circled the bar positioned high above bobbing heads. Adrenalin, encouragement, enthusiasm and applause raised the strong and bold to the occasion, each exhibiting more reps than ever before.
Pull, pull, pull... one more rep... you've got it, you've got it!!!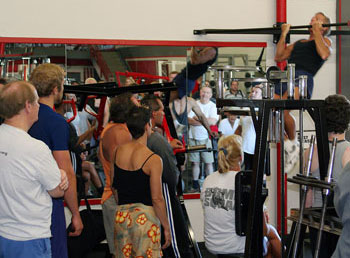 The winning number was 28, though the quantity of repetitions was not the point. The point was the laughter, smiling faces, physical exertion, mutual support and oneness of mind. Here we were, devoted IronOnliners, most of whom had never before met in person, hanging on to each other and chattering like long-lost family. What do we know that everyone else seems to have missed? What is it in the iron that causes such magnetism?
I would be remiss if I didn't tell you that a mile away as a crow doth fly, there's a commercial kitchen full of IOL volunteers -- Dan Martin, Laree, Lori, Jazzman, Stingo and Bill Frazee -- attending the food preparations: homemade salads, Texas beans and side dishes. This is a noisy and comical scene with giant pots, huge bowls and heaps of vegetables on every available countertop undergoing a chaotic order of boiling, filling, slicing and dicing. Periodically someone leaves his post and a camera silently emerges at the right moment to record the mess and the messy. Smile... oops! Too late! He he!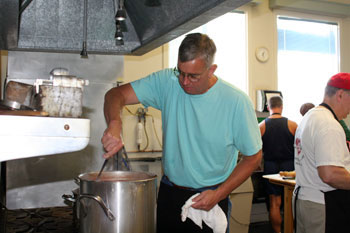 The gathering at the gym grew larger through the early afternoon before it broke off into junks and hunks, bits and pieces towards evening. At 7:30 PM we re-formed into one vital mass at the UCSC Inn for simple and scrumptious chow, more excited conversation and -- for anyone who could keep his or her sleepy eyes open; gettin' late, kids -- a showing of Don't Make Waves.
How cool! The movie ended and the remaining 50 bombers of the original 125 stumbled upstairs and off to bed like drowsy kids at a slumber party. Good night, sleep tight, don't let the bed bugs bite.
By 8 o'clock Saturday morning the Martin Crew -- Dan the man, Andy Rodriguez, Steve Brickman, Caber Mike and Pete Hauser, assisted again by Amazon Lori and Stingo -- is organizing the barbecue, no cute backyard grill for mom, pop and the kids and Auntie Sue and Uncle Lou... please, can I have another hotdog. The grill at the manicured edge of a redwood forest is ten feet by four feet and the serving table is longer than one of those preposterous stretch limos you see following itself down the freeway. Food's everywhere and they're lovin' it.
300 yards away from the smoldering charcoal, the World Gym is humming with its usual weekend warriors and the small invasion of conquering heroes from across the land and sea. Bill Pearl and his small entourage of friends and family have already trained, opening the doors at 5:45 AM to beat the gravity and heat and make as much noise as they want and need. He promises to be back at 11 to tell everyone what he does, why, when and how. I'll be completely awake, scrubbed and de-grouched by then and intend to stand by his side and be of service in any way I can. Another bottle of water, Bill? A mint?
The World Gym is one of those neat, well-planned neighborhood gyms -- just the right size, simple colors, high ceilings, lots of air and light, sufficient sound, great equipment, tons of weight and no silliness. It's the kind of gym you fall in love with, the kind of gym that is becoming rare on the emerging horizons, an endangered species, a white rhino, a spotted leopard. Save a real gym in your neighborhood today. Make donations: used Rolexes, diamond pendants, gold bracelets, pearl necklaces, rare coins or dear Grandmother's broach.
The sky is blue and the sun is warm by 11 and the gym floor is looking like the morning rush at Grand Central Station. The mic squeals as the sound is adjusted and 200 animated bodies become still and their voices silent. Someone say something, I beg under my breath, each second sounding like a minute. Oh, boy! That someone would be me, wouldn't it? I fiddle with a cable and a switch and my suave yet commanding voice is blasted loud and clear to the next county like a low-rider's blaring boom-box. Everyone ducks and grimaces; we're off to a good start.
After my brief introduction (where I dazzle the brilliant assemblage of ironminds with my charm, wit and good humor), Bill and I begin our question-and-answer seminar. Bill insists upon going first, but I quickly point out the whole thing was my idea. He then declares, childishly I thought, that he's the guest of honor and it's his choice, not mine. I say, "Bull," and lunge for his mic, when Laree comes stomping from the crowd, video camera in hand and scowling, and tells me I'm being a jerk. I hate that. By this time Ed Corney, the brute, emerges from nowhere and masterfully engages me in a step-over-toe-hold to which I submit immediately. Worse yet, I had to apologize to Bill before the gang and he answered the first question of the Q n' A. Drat!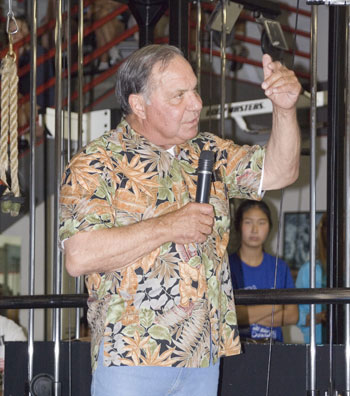 Talks are so formal, stiff and teacher-like. They tend to hide the personality of the speaker behind a poorly prepared presentation and compel the audience to listen to whatever subject he or she chooses. "Today, let's discuss fast-twitch muscles and how they compare to slow-twitch muscles by calibrating the internal forces applied consecutively, separately and in alternate sequences throughout a series of rapid and non-rapid resistance movements. Did you bring your notepad and pen? Good! Now, then, students, as clearly indicated on this chart..."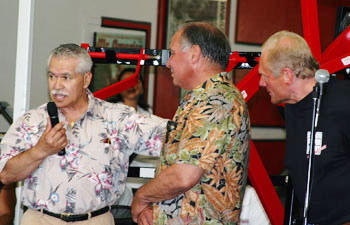 I loved every minute of the two-and-a-half-hour exchange between Bill Pearl, the IOLers and me: pure entertainment, unvarnished truth and a pleasant peak into the lives of everyone who cared or dared to speak. The level of information discussed was not profound and no one walked away highly enlightened. What was gained was affirmation of the things we already know, often forget and sometimes doubt. There's nothing new under the musclebuilder's sun or the bodybuilder's posing lights -- no secrets, no worthy apparatus and no hi-tech break-throughs. Just us -- you and me -- and hard work, the basics and common sense... as if the truth wasn't enough.
Early afternoon… and everyone migrates to the grassy park across the isolated street. Smoke rises steadily and deliciously from the fiery charcoal pit as tri-tip, chicken and salmon grill to perfection. We're old friends with healthy appetites and hearts full of banter and affection. No one's alone, shyness has receded, conversations have developed and Laree sends for more meat (good call) before the sun gets anywhere near casting shadows. People are eating Marianne's ice cream between servings of meat and salads and garlic bread. Why not?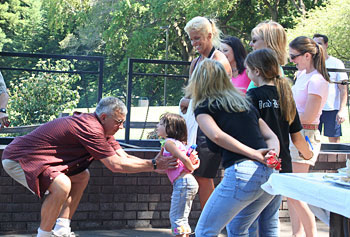 Someone (Jeff Jackson) remarked, "I've never before seen over 200 people gathered together laughing and having fun without considerable alcohol to drink."
The day was long, packed and, as expected, came to a slow end. The group with plans ready for the evening dispersed; the leftovers and utensils, bowls and pots were stashed in our homebound vehicles and the area was swept clean. How empty, how quiet, the embers still aglow. "Thanks everybody, see ya tomorrow... yeah, at the gym in the morning." It's only 7:30 and Laree and I are thinking of crashing... a mellow crash... after we empty the assorted gear and rinse the pots and bowls.
Sunday is the brunch at the hotel, goodbye to the travelers from Florida and Texas, Michigan and Minnesota, Jersey and New York, Pennsylvania and Louisiana, LA and Sacramento and San Francisco. You get the picture.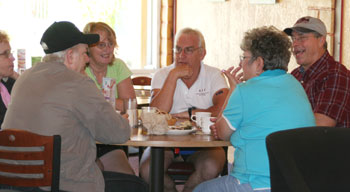 Speaking of pictures, during the historic seminar four video cameras of professional caliber were constantly in action at the hands of three semi-pro film- and iron-enthusiasts, Laree, Zack and George Pradel. Laree has 14 60-minute cartridges in her clutches with which to edit and compile a tape of the Pearl and Draper Advanced Study. You can be sure you'll be the first to know when and how much... that is, if I don't look like a dork.
Laree interrupts to tell me Bill has veto-power, too.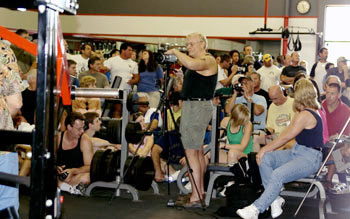 A large handful of bombers remained in town, extending their vacation a few days with plans of visiting San Francisco to the north and Big Sur and Monterey to the south. Thus, they were among those of us who met at the marina in the early afternoon for an off-shore cruise on a 49-foot sailing yacht. Just to sail off the coast of Santa Cruz on the Pacific Ocean for a few hours in the warm sun and pure air is slightly amazing. 40 beautiful people sat back or wandered carefully about the windblown deck. Duck when the captain rings the bell or the swinging boom will take you for a precarious and embarrassing ride. More chatter, more delight. You had to be there.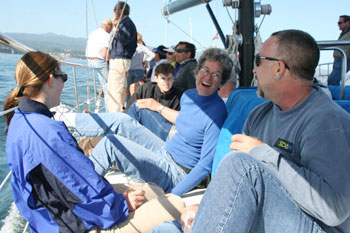 It was at the yacht harbor that most of the last goodbyes were said, none of which were easy. At this writing there are few lingering muscleheads (Henrik the House, Kathy and Ed from NJ) and we plan to have an early dinner Thursday evening.
Wow! Words cannot describe...
On top of it all, Odis Meredith (Torque Athletic) came with his darling wife, Cindy, and rugged six-month-old son, Caden, and cool Indiana buddy, Chuck Hedges. Odis and the gang arrived last Thursday from their home in Indiana, a day after the 4 x 4 x 8 foot, 1,150-pound crate containing the Dungeon arrived from the same place. Once they checked into the hotel, we all convened at the World Gym to uncrate, unwrap and construct the awesome multi-purpose training apparatus of impressive proportions for authentic weightlifters. A striking animal in black and hammered silver steel, you expect the Dungeon to emit a low growl like a stealthy panther about to leap into action.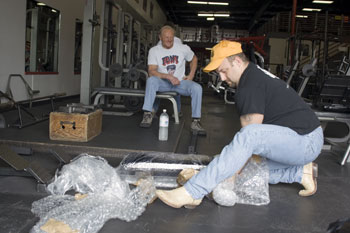 This was the first public display of the Dungeon and we were anxious to observe and note the perceptive bombers' responses to its appearance and functionality. We did very well, As and A-pluses. Unfortunately, time and deeds and responsibilities carved me into pieces too small to go around and I didn't scrutinize the beast till everyone was gone and I was alone in my training gear and focused mind-frame.
What a superior arrangement of functioning steel we have produced, smooth, solid, detailed, handsome and purposeful. Let's just say it is fantastic. Thanks, Odis and the crew at Torque Athletic. We might not sell many (I'm starting to save for mine), but it's truly extraordinary. Roll Royce comes to my mind.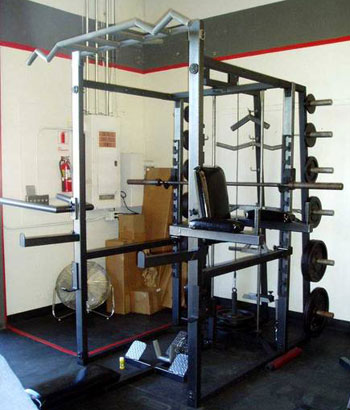 I'm a day late, bombers, but that doesn't make me any younger. With another tap or two, this little mess will be in Laree's hands and off to you, but not until she fortifies it with two hefty links to etch some smiles on your faces. Spread you wings, dear friends, and enjoy the flight.
God's speed... Dave
The rest of the Bash reports are here
Other new pages of the website to inspire your training
Did you sign up for Dave's expanded email yet?
It's free, motivating and priceless!
We'll also send you a link to Dave's free Body Revival Tips and Hints booklet with your confirmation notice.