Tales of Juneau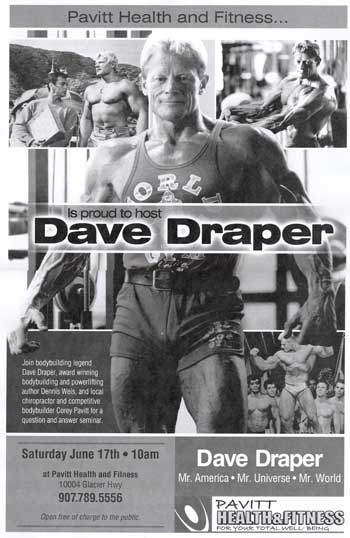 If you'd like to download the full Draper here newsletter in printable, live-link, pdf format, click here.
Airports, airplanes, take-offs, landings, tickets, inspections, schedules, connections, luggage somewhere in overhead bins, coffee in paper cups, pretzel bits in little bags, leg cramps, headaches and small talk. Next stop: Juneau, Alaska. Buckle up.
It's a picture postcard city of 35,000 year-round residents. The story goes like this: I came up to visit for the weekend (or month) last year (or 10 years ago) and never went back. It suits me perfectly.
Juneau is approximately 900 miles north of Seattle, located amid that rugged 500-mile strip of Alaska carved extensively with inlets, channels and harbors off the northwestern coast of British Columbia. Steep rocky mountainsides covered in green moss, alder, hemlock and ash border the waterways navigated by mammoth cruise ships entering and exiting Juneau's port of call. Bald eagles soar, hunt and nest casually, their environment. If you're looking for bear, you can find them in the wilds that extend forever. The power of the silent and sometimes thundering glaciers, as old as fire and ice, steadily receding at the tips of fjords can be approached and witnessed by small vessels. Unbelievably delicious wild salmon, halibut and crab are caught daily in the cold and tricky waters and heartily feed the residence. Tricky waters are due to heavy rip tides responding to the 24-foot tide changes within every 12 to 14 hours.
The waters come and go, as do the cruise ships and sea planes and fishing boats. The waters swell and retreat, as does the population of Juneau throughout the week. From our room overlooking the channel we'd see four ships 10 stories tall enter the tidy port, anchor and disembark tourists at Juneau's quaint downtown everyday. The following morning they'd be replaced by another four behemoths to repeat the ritual. I'm guessing the playful yet slow-motion act goes on systematically. Shops sell fine jewelry, t-shirts, soap and smoked salmon. There's a MacDonald's.
Ask any resident about the weather and he will with extraordinary accuracy shrug his shoulders. Clouds and moisture are everywhere, and while we enjoyed Juneau's summer days, the temperatures ranged from 80 degrees during one blistering day to 40, 50 and 60 the other five. And, I might as well mention, a day of daylight will last from 5 AM to 2 AM, with a dot of twilight between to add confusion. Very interesting. The mountaintops surrounding the city are still capped in white, but the snow is melting fast. Juneau is a long way from the hunk of Alaska twice the size of Texas reaching northward to the Arctic.
There is basically one main road, a good one, which runs the 40-mile length of Juneau, the remote capitol of the 50th state. Out the road, as they say, and past the airport is the stretch where non-tourist life goes on. You know the scene: gas stations, lumberyard, car repair, a Safeway shopping mall, another shopping mall, strips of professional businesses, apartments, houses, condo construction and -- what's this? -- a gym in a simple two-story structure with plenty of parking. Pavitt's Health Club for Total Well-Being stands alone, brand-shiny new and ready for action.
Corey and Ellen P did a super job piecing the final product together, an uplifting gym experience for everyone's needs and desires, juice bar and sauna to in-place swimming, aerobics of all sorts to heavy weights on thick platforms.
Corey and I stood amid the neat and clean equipment and a crowd of 60 curious muscle enthusiasts for two hours answering questions and offering information about health and fitness, mass and might and, remarkably, training as one matures (aka ages). What do we know? We faked it.
As the sun continued its long, extended trek across the cloudy skies, Corey and Guy organized a barbecue on a remote beach further out the road where a dozen imported IronOnliners (NYC, Seattle, Central California, Chicago) gathered to cook salmon, eat, and generally gab. The tide came in 10 feet before we broke camp, a few eagles nested and not a bear dared show its furry face.
Lots of other good stuff happened -- dinners, long boat rides up fjords, whales and seals, glaciers and icebergs and waterfalls -- but you had to be there, if you know what I mean. Meanwhile, Laree's posted her pictures and the reports of the attendees, here in the forum.
MUSCLEBUILDING IS SERIOUS BUSINESS, LEST YE FORGET
I'm a dreamer. To be more specific, I dream throughout the night -- vivid, colorful and absurd dreams. Laree does not. She hops into bed, fades to black and the next thing she knows the sun is shining and I'm shaking her and saying, "Wake up, Sweetie, can't sleep the day away. We have things to do and places to go and worlds to conquer." Of course, the snoozy rascal will have you believe it's the other way around. Girls are so cute!
Many of my nighttime envisionings are about phantom weights and elusive workouts. Great! I finally fall asleep and wake up in an imaginary gym where, with growing frustration, I grasp for the iron, only to have it slip away in a shadow of illusion. Futility! Each piece of equipment is in a separate room, each room connected by a maze of secluded hallways, or all the equipment is in one room the size of Yankee Stadium. Worse, I'm standing in a gaily packed Bally's (gasp) and the only machine available is a Stairmaster (gag). The dumbbells do not match, the benches wobble, the bars are bent, there are no exits, no windows and a thick cloud of cigarette smoke drifts across the floor. I have a handle for the cable, but can't find the hook. Pins for the weight stacks cannot be located anywhere -- I search. Plates don't fit the Olympic bars -- I try. I haven't yet lifted an ounce and I'm exhausted.

Just the other day a guy in a fire engine drove into my living room while I was reading Flex. My first reaction was to climb into the big red truck to offer my assistance driving and blowing the siren, but the fireman assured me that was unnecessary. He dropped by to learn how to gain powerful muscle mass. I was in my underwear, felt uncomfortable and went into my bedroom where I put on socks. When I returned the room was dazzling and filled with sophisticated folks conversing and drinking espresso. I walked up to the fireman, now attired in a three-piece suit, and told him he must squat, deadlift and do cleans and presses, and then I woke up. I was ringing wet. Important truths were seeping from my pores and I jotted them down immediately on the notepad conveniently stashed beside my bed.

Here are a few other bits of knowledge I learned while bouncing off the walls of my nocturnal cuckoo dreamland:

~ Never underestimate the power that lurks within the workout you expect is a loser. And don't be disappointed if a workout you geared up for settles into ordinary. Though it is wise and advantageous to prepare positively for our bouts with the iron, smart preparation does not guarantee ultimate performance. I suggest that, had you not, you might have failed miserably or missed the workout entirely. The point is this: Go in with all you've got and get all you can get and be satisfied and grateful. Don't be greedy, don't be negatively critical and don't be childishly discontent. Every training session has its reward, takes us forward and leads to our goal. Not enough? There's always tomorrow. Be there.
~ The completion of a workout is in itself the achievement of a major goal. Not that we should fuss over the accomplishment -- though there are times, as we stagger from the gym and into the sun, we want to scream for joy -- but we must give the occasion the honor it is due. The regular and humble practice of regarding our efforts with respect contributes increasing worth to the deeds and propels them forward. It's up to us to fortify and perpetuate our iron-bearing endeavors, bold moves in a world where boldness is witnessed most frequently in vulgarity, abusiveness, gun slinging and crime against man and nature. The gym and our exertions within its walls add to the goodness and wellness of the community internally and externally, near and far. We're life's ambassadors, free of politics, free of ill-will.
~ Addition and subtraction and multiplying have nothing to do with the science of mathematics, we discover, as we heap up the sets and reps and grams of protein day after day and calculate our muscular gains. In fact, nothing we do in the gym needs to be associated with science. I say, leave that rigid and computed knowledge to launching rockets toward planets beyond or uncovering cures to diseases within. The soundest source of teaching and learning for our substantial, yet uncomplicated pursuits comes from the depths of commonsense. I'd rather be dumb and possess commonsense, than brilliant and absent that functional and resourceful characteristic. Lifting weights is a force of the emotions, a passion, a physical journey directed by inner drives and intuitive radar, some brains, little intellect and mostly heart, soul and spirit. I count sets and reps and grams, but they are not numbers. They are gut feelings and urges and curiosities and guesses extended and spread in the specific direction of muscle and might. In bomber terminology it's sorta like gliding. That's about as scientific as I get.
~ We all have expectations, large and small; some are well hidden beneath a loose T-shirt and some are exposed like an oversized rhinestone pinky-ring. Expectations are a tough animal to tame. One person looks at the weights and has visions of grandeur -- a thoroughbred out front by three lengths in the final stretch at the Kentucky Derby. Another stands amid the metal gadgets and grasps them, tools to build strong and functional muscle -- a handsome workhorse capable of pulling a wagon across the mighty plains to places unknown. Others step about the heavy masses and wonder what they have to offer; playful strength and health, entertainment -- a colt chasing its mother's tail, bucking about in circles and racing nowhere. It's not uncommon for some folks to wander into the gym, wander around and wander out -- raccoons making the rounds, looking for edibles, places to lounge and anything but work or trouble. Please stay. The benefits are immeasurable. Don't chew on the upholstery.
The key to expectation is to embrace the thing like a living, breathing and ever-changing animal, and neither a rhino nor a rabbit, an animal of its own nature and stature, perhaps the ever-popular rabino. It's cute and cuddly, but you don't want to mess with it. Give it a nice place to play and room to rest and grow, tender-loving care and all the time you can spare, feed it the best foods money can buy and if it gets lazy, get out the big stick.
Expect too much, you're never satisfied. Expect too little, you never progress. Expect what the days, weeks and months may bring, your expectations are fulfilled regularly.
~ Promises are meant to be broken. Show me a promise made to a bodybuilder by the notorious muscle marketeers and I'll show you a little white lie or a huge heartbreaker. They not speak truth to brave young warriors. They scalp 'em and take their gold. They use words larger and more expressive than stupendous, extraordinary, magnificent, stunning and striking to describe the achievements one will make in periods seldom exceeding 30 days... the average attention span of a lad or lass investing their only 50- to 100-dollars. I was reaching for the phone to call the 800 number and order my supply of X-MAX Big-Guns I000, while they lasted, when I realized what a mistake I was making. Me. The Bomber. I'm embarrassed but humbly admit my foolishness. My credit card was overdrawn from my last order of Glysoldihyratemysodiumpentathol STRONTIUM GRO MO 99 and Laree had not yet made the minimum payment. Scream! She promised.
~ In summary, every workout is valuable, its completion is a major triumph, commonsense rules, expectations that match the heart and head are fulfilled always and promises made by you to yourself are certain. These truths are the basic truths that never fail.
Like spreading your wings, picking up air currents and flying. It's all so easy.
DD
BELIEVE IT OR NOT
Ever since the Pearl-Draper seminar dvd hit the market, stocks have gone up considerably around the world. Gym memberships have grown, and those with existing memberships have crowded the doors. Health food businesses are flourishing and people across the nations are eating more conscientiously. Obesity and associated diseases are on the decline. Families are participating in energetic sports and recreational activities, drug use among teens has diminished and crime is down.
Join the feel-good phenomenon; support the remarkable upsurge in global spirits and wellbeing. Send for your P/D DVD today, along with your order of Bomber Blend and Super Spectrim vitamins, and keep the material in which they are wrapped free of charge.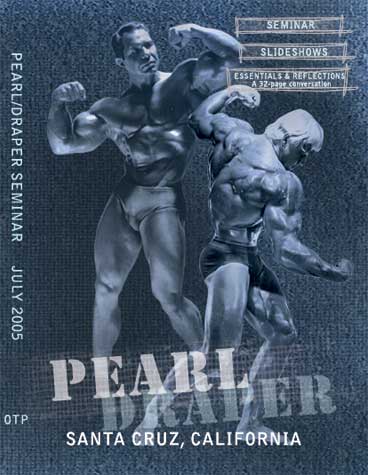 The DVD includes a one-hour-and-fifteen-minute tape of the July seminar, two muscular slide shows, plus a 32-page booklet outlining the subsequent interview between the mighty one, Bill Pearl, and me in which we discuss some favorite subjects untouched by the seminar.
To order your copy of the Bash 05 Seminar dvd with Dave and Bill Pearl click here.
Grab your copy of Dave's inspiring bodybuilding book, Brother Iron Sister Steel, here.
This is his newest book: Iron On My Mind
Other new pages of the website to inspire your bodybuilding workouts
Did you sign up for Dave's expanded email yet?
It's free, motivating and priceless!
We'll also send you a link to Dave's free Body Revival Tips and Hints booklet with your confirmation notice.
Our IronOnline Forum will answer your weight training and sports nutrition questions right now.
Golden Era fans will rejoice in this excerpt from West Coast Bodybuilding Scene
It's practically a miracle! Dave's Top Squat assists squatters with shoulder problems