Musclebuilding, Bombing and Blasting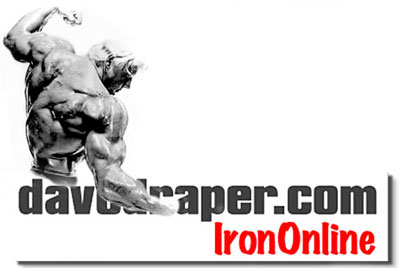 If you'd like to download the full Draper here newsletter in printable, live-link, pdf format, click here.
Good morning, Bombers...
I come as a warrior, shield in my left hand and sword in my right. Standing tall atop victory hill, my weapons extended high in the air and my back against the sun, I direct the troops and encourage them with echoing whoops and bold gestures. Take no enemies, fight to the death. Bomb 'em, blast 'em, etcetera and etcetera. Of course, that's how I attempt to project myself, fake that I am. Truth is, as you've long suspected, I drag myself to the gym every other day, ride the Exercycle while watching a Seinfeld rerun, and drag myself home -- and this not without stopping at the old Dairy Queen for a double cheeseburger and fries. I live according to the reward system, the only system that works.
Now that you know my charade, does that mean you'll no longer value my advice? No, don't answer that. Let me to continue pretending. It's easier. I have enough pain, especially after catching my foot in the stirrup when dismounting the wretched Exercycle, slipping on the Aeroboslide and falling head first into the purple Exerball. A weightlifting gym is a dangerous place to spend an afternoon. From now on I'll not go near the place without a mature certified personal trainer.
Alas, where will you gather your information and motivation and inspiration? The Bomber might have crash landed, but there's good news from the rescue squad.
Laree's working devotedly on the website. She's applying her recently sharpened skills to the improvement of davedraper.com's accessibility to valuable information. Our near-eight-year-old site is extraordinarily dense with extraordinary information (trying to make a point with limited vocabulary and articulacy) and much of it is hidden in the mountains and caves that comprise our expanding database. As she ventures into the obscure task, unveiling precious gems of iron insight, old threads of gold and veins of knowledge, she's arranging the most pertinent and sought-after material for your enjoyment and enlightenment. It's like the wizard is preparing an encyclopedia for training enthusiasts, whether they are lightweights, heavyweights or float like web-surfers.
We're rich! Please, take advantage of IronOnline's newly organized features and visit its gleaming halls of education and inspiration.
The website is also undergoing a slight, yet favorable facelift, the IOL Blog is growing in stupendous content and the Wiki is full of unspeakably, inexpressibly good stuff. Other than that, nothing's new. Oh, one thing: I'm not really a fake. I was just saying that. I missed a workout last week and felt I needed punishment. I feel better now.
Later this morning I'll affix my armor (ragged muscle-T), gather my weaponry (ratty gym bag full of junk) and cross the rugged terrain (the traffic-bound freeway) to the battlegrounds (The Weight Room) where the war rages on (arm day). Danger, heroics and triumph await me in the fields of cold steel. My strategy is simple and straightforward: engage the opposing forces head-on, swiftly and intensely; apply fundamental tactics, allow no retreat and take no prisoners. Fortify myself with a generous supply of Bomber Blend. (I can't shake the warrior thing.)
I have six curling movements in my arsenal for biceps that I practice and interchange regularly: standing barbell curl with standard bar or thick bar or bent bar, seated dumbbell alternate curl, low-incline curl (20 degrees), thumbs-up curl. I choose two for my arm workout and superset them with any of some six favorite triceps exercises: lying triceps extension with straight or bent bar, machine dips, overhead-pulley triceps extension, pulley pushdowns in varying positions. Here I'm limited in choices as pain from injury restricts my gripping ability. No matter, there's plenty of ammo to get the job done.
Preacher curls and one-arm concentration curls and steep-incline curls have lost their favor with me as the years have gone by. They seem dull, restricted in action – isolated -- and less productive and alluring than those on my short list. Wrist curls have been a part of my bi-tri routine since I first discovered my arms.
We must not forget the added load our biceps, triceps and forearms undergo -- and profit from -- during the execution of shoulder, chest and back works. When designing our routines, this consideration will prevent us from subtle overtraining or mild undertraining. We're a system of muscles working together, not a collection of individual muscle groups working separately. And with this awareness each and every training session increases in value and purpose, incentive and appeal. Scene fades to black...
Good afternoon, crew...
The morning has come and gone, the freeways and byways have been traversed and the gym is behind me.
Here's what my training session looked like today: wrist curls supersetted (SS) with pulley pushdown (5 sets x 12-15 reps, after carefully warming up), low-incline dumbbell curls SS with overhead triceps extensions (5 sets x 8 reps biceps, 15 reps triceps), standing bent bar curl SS with lying triceps extensions (same set-rep scheme) and three quick sets of 8-10 reps of thumbs-up curls and machine dips. As usual, I labored continuously and with vehemence, yet I set no records. The thrill was there in the midst of it all, and so was the agony and retreat. I inspired myself, I punished myself, I grunted, whined and pumped.
Between sets I considered -- earnestly sought, stealthily hunted, deeply dug, humbly begged and prayed for -- better ways to achieve my goals, but returned to my original plan with hopeful resignation. Here's a list of the dumb question I asked and answered in my search for the impossible: Is the routine too much -- probably; not enough -- unlikely; does it work -- apparently; is it fun -- not exactly; is it new -- it wasn't 45 years-ago when I first unearthed it in a dungeon.
During my workout I also observed ever-so-briefly those around me and listed with speedy efficiency the things one should not do during their labor for muscle development: watch people around you and make dumb lists -- hello: ride the recumbent bike for 30 minutes while staring at the TV, showering and leaving; talk in depth about the game or politics or the opposite sex or anything between or during sets; read a novel, the newspaper, comics, Flex or anything while on the gym floor; loiter, linger or hover about benches and racks aimlessly or suspiciously while scratching your butt; exert more time, energy and focus on updating a journal than performing the exercises therein.
Get to work. You'd think it was Sunday at the park.
On the other hand, I also note I unceasingly suggest, "We blast it with all our might, bombers." What's that all about? What's the urgency? Where's the pause for reflection? Are we all training for a major contest, Miss Perfectly Cute and Mr. Large 'n Ripped? For the most part (and for the sanity of mankind) we within the sound of crashing weights are lifting to be happy, healthy and fit -- and those three terms are relative to you, yesterday, today and tomorrow.
Some of us need to blast it, some of us must and some of us should. Some us never have and never will. Some cannot, some ask why. It's all good, very good. I sort of lean on training intensity -- bombing and basting -- because I'm a product of my era and an adherent of my advice, a subject of habit and a victim of need and a seeker of desires, and because it works. It works when onward and upward is your favorite direction, and your tail's on fire.
I swoop through the air in what can be best described as a refurbished bi-plane with its tail on fire. I make a lot of smoke, but it's mostly for effect.
Bomb away with sufficiency.
God's unwavering strength... DD
----
BELIEVE IT OR NOT
Ever since the Pearl-Draper seminar dvd hit the market, stocks have gone up considerably around the world. Gym memberships have grown, and those with existing memberships have crowded the doors. Health food businesses are flourishing and people across the nations are eating more conscientiously. Obesity and associated diseases are on the decline. Families are participating in energetic sports and recreational activities, drug use among teens has diminished and crime is down.
Join the feel-good phenomenon; support the remarkable upsurge in global spirits and wellbeing. Send for your P/D DVD today, along with your order of Bomber Blend and Super Spectrim vitamins, and keep the material in which they are wrapped free of charge.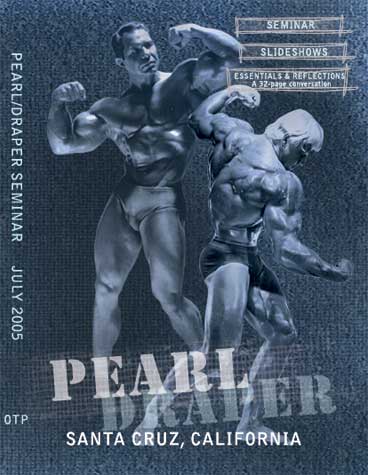 The Package includes a one-hour-and-fifteen-minute tape of the July seminar, two muscular slide shows, plus a 32-page booklet outlining the subsequent interview between the mighty one, Bill Pearl, and me in which we discuss some favorite subjects untouched by the seminar.
Here's where you can get your copy of the Bash 05 Seminar dvd with Dave and Bill Pearl
Grab your copy Brother Iron Sister Steel here
Click here to order Iron On My Mind
Other new pages of the website to inspire your training
Did you sign up for Dave's expanded email yet?
It's free, motivating and priceless!
We'll also send you a link to Dave's free Body Revival Tips and Hints booklet with your confirmation notice.


Our IronOnline Forum will answer your training and nutriton questions right now
Golden Era fans will rejoice in this excerpt from West Coast Bodybuilding Scene
It's practically a miracle! Dave's Top Squat assists sqatters with shoulder problems