Thunder and Lightning, Sunshine and Rainbows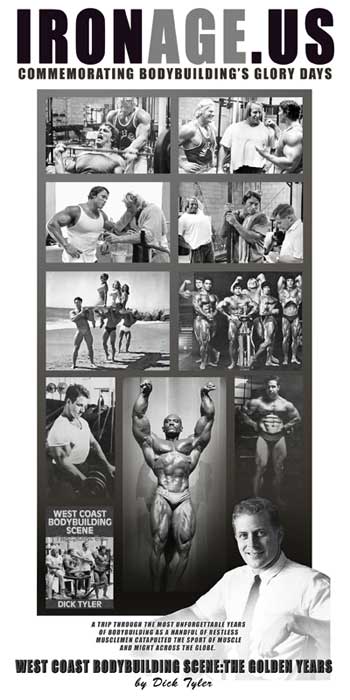 IronAge Banner for the Arnold Classic
Designed by Jeff Preston
If you'd like to download the full Draper here newsletter in printable, live-link, pdf format, click here.
If you missed part one from February 22, 2007 -- read this first.
It was seven years ago when a good friend of ours went to the doctor for his annual physical, a requirement of his employer. A big man and solid as a rock from powerlifting most of his life, he dropped by the clinic as prescribed. His vital statistics were alarming for a man just 50, an emergency angiogram was ordered and he was sent to surgery for a multiple bypass before he was sent home a week later.
Now Bill is a brave guy, he recovered fully and was that weird kind of grateful one experiences for the nick-of-time discovery. He also made it clear to his friends and colleagues that what goes on behind one's walls of flesh is not always harmonious and good and right. Jarring and bad and wrong is often the case. Beware. Be aware. Get checked up and checked out.
I took his words of experience seriously and because of shortness of breath, arranged an angiogram with my heart doctor. I was fitted with two stents in 2000 and was made increasingly aware of my heart's needs and vulnerability. Hello, 2007. Welcome to my life.
I like to think we have a long and eventful journey before us. Laree did an incredible job researching and concisely piecing together straight-forward information necessary to understand our common cardiovascular dilemmas, the personal precautionary steps to uncover heart-shaped snares that might be at our feet and could very possibly ensure our long and healthy lives. Certainly, a review of her message and links will put your heart and mind at ease. Don't miss this invaluable review of clogged arteries and heart disease.

Now to unloose myself of the chains that bind me. Spend too much time with doctors and clinics and prescription drugs and you begin to feel -- and act -- like a professional patient. I have a few friends who operate in such a zone, half their lives are spent arranging doctors' appointments, reapportioning medications, treks to the pharmacy and filling out disability and insurance forms. The other half is creatively expended inventing new dilemmas, locating new doctors, complaining about their various ailments and dismally recuperating from them all.
The art of being sick and depressed is loathsome, and it is not dying. The art of living is worth developing.
It's been four weeks, going on a month, since the doctors handily performed their arterial switcheroo -- healthy blood passageways from left arm and right leg to ailing heart regions, anterior and posterior. Subsequent visits to doctors' offices confirm I'm on the road to recovery, bumping along for the ride and behaving like a model patient. I've repeatedly topped out the Voldyne breathing meter at 5,000 ml, its highest register, up from 1,500 in the early post-op days... a lifetime ago.
I'm a regular bag of wind.
I made it through my third, forth and fifth workouts with increasing energy and strength. I supersetted comfortably, naturally contracted the muscles more intensely and sought each set with more spirit and song. Laree watched my back like a lioness watching her cub. You can play, but don't wander into the thick underbrush.
My recuperation throughout the days was marked. I didn't go home and collapse, but did chores around the house, including laundry and vacuuming. (The kitchen remodel and house-painting will have to wait till the end of the month.) The appetite is hardy, but the bodyweight is down. I'm a rail, taking diuretics to combat the water retention common to open-heart surgery. Diuretics drain energy, as well as water, from your system. Ugh! Sleep is a battle, hot sweats waking me frequently and causing discomfort -- another post-op downer.
I'll regain my weight slowly and certainly, looking at 215 lithe pounds as my standard. Lithe sounds cool, dontcha think... better than skinny? Two-one-five has not been an effort to maintain in the past, and feels naturally comfortable. The challenge will be gaining and sustaining the muscle without milk products. It's been a month since I've had milk, cottage cheese or yogurt -- my life-long staples -- and the mucus, a life-long problem, is down significantly. Elation! Furthermore, with genetically impaired arteries, I can do without the added milk fats. I miss the protein and carbs and other associated nutrients, and I miss the good taste. Some will argue that milk is downright bad for you. I'm on the fence between the cow pastures and the marketplace.
Bomber Blend is mixed with water and juice and I'm a happy musclebuilder.
Coincidentally, I've adjusted my meat intake downward over the past year, a wise move for an older and less active and less muscle-making creature-machine. Fish of all sorts have become more taste appealing. I now have lean meat once a day, half my usual consumption.
Too much dense LDL and not enough HDL have caught my attention. I'll soon slip into my new cleated biking shoes and go for a spin. Won't that be fun? It's a bird, it's a plane, it's the closet spin biker.
Still too early for a training plan, though an every-other-day system seems reasonable and likeable. I'll seek balance, control exertion and select exercises as I evaluate the gym and the pulsing vessel standing in its midst. Joy will attract me, intelligence will guide me, understanding will fulfill me, pain will signal me and fear will leave me. Socrates might say, know thyself and trust thyself. I say thank God every day.
It's warm and sunny and a day after yesterday's super workout. I'm not sore or whooped from my recent iron encounters since the bombing, swift kicks in the pants that felt better than a hearty slap on the back from an old and loving friend. Today I'll walk only, up and down a long and gradual 100-yard incline that is our driveway. It's springtime; the birds will sing and I'll get the urge to run. Naturally, I'll fight the obsessive urge as my lungs squeal like little piggies hungry for mom's tasty milk. The walk will be longer than the last, and more savory.
The insights gained from a post-bombing experience include the critical data outlined by Laree in her blog and links, which she will continue to collect as she shares info with our bright, candid and informed IronOnline discussion group, and the basics we bludgeon regularly here in our conversations about training. We must look at the basics with more clarity and give them the importance they deserve and often lose when they are seen and spoken of again and again. Redundancy beats the life from a good thing.
Here's a knotted and worn string of fundamentals, 12 in number, and this without considering presses and curls, training consistency and discipline, protein and sugars or Steve Reeves and Sergio.
Do not procrastinate. Hesitate less. Be bold and daring, but not reckless.


Be grateful in all circumstances -- good and bad. They enrich and teach and are there, tightly woven in the fabric of your life.


Stop complaining. Who cares and who listens? Life's a struggle, a good fight, a tough workout, a hard-won triumph, a precious gift.


Encourage whenever you have the opportunity. You gain more from the practice than the deserving recipient. He and she glows and you grow.


Be strong and courageous. The Bible's big on that combination and I'll bet Confucius, Buddha and Allah don't oppose their merits. These are attributes that come from working hard, trying to excel, helping others, observing your surroundings, accepting losses when you've done your best, giving instead of taking, and other things that remove you from the center of things and put you in a humble place.


Don't dwell on the dark side of life. It's there with all its ugliness and cruel attendants. Keep it at a distance and counter its evil shadow by casting not a stone but the light you have inside you. You have a light, whether you know it or not. Admittedly, tossing an occasional pebble can be difficult to resist; don't beat yourself up if one leaves your hand in a moment of frustration.


Hate is a part of life, as are injustice, disease and disrespect. Hate only briefly, and discard it by exposing it. Replace it with internal fortitude.

Stress kills. When we do good, life is simple. When we do bad, life is complicated, confusing. Funny how that works. Keep life simple, orderly and manageable. Don't hurry. Don't worry.


Hang in there. Remember, no matter how hard we try and how much good we do, something or someone will mess it up. Sounds cynical, I know. It's a fact. You've gotta stay ahead of the curve or you'll slip over the edge. Hold on tight.


Practice responsibility and respect, the excellent things we owe each other, brothers and sisters. Here's a list of superior things, a bunch of Boy Scout stuff at which we scoff, that'll embarrass today's wiseguys: kindness, graciousness, humbleness, good cheer, generosity, care and concern, integrity, authenticity, gentleness, understanding, compassion, forbearance and chocolate. Where have they been buried, how long and why?


Above it all, smile from the inside and laugh from the heart because of the warmth and humor and delight that are almost everywhere should we look and see.


You ready for the big one? Love your neighbor as you would have him love you.
Time to fuel the tanks, check the struts, cables and gear and fly. Or we can tie the winged beast down before she greedily reaches for the wind. Easy, girl!
Tomorrow is another good day.
Three, two, one and go... God's speed... Dave
If you missed part one from February 22, 2007 -- read this.
Laree's late addition: I pulled together our records of Dave's path to bypass (not that you'd want to follow him that far), and it's something most should put some effort into.
I know, right after your taxes are done. Alright, do it then. And, yes, I know that comes after cleaning the garage and any other nasty task you put off just to delay tax prep.
The list is a set of blood tests everyone should, er.. demand, and flows into the testing Dave went through to determine the extent of his heart's failings. As Dave did in 2000 when Bill Keyes had his bypass surgery, those of you with shortness of breath symptoms will want to move on this rather than wait it out.
Here's the discussion on tests for heart disease, which will surely change as the researchers give us more clear data.
Apparently a true, non-invasive arterial test is about 10 years out, not close enough for most of us to wait on. Get on this right after tax season, and before you get distracted by summer.
THAT BOMBER BLEND
Quick note: To avoid mucus formation and the resultant throat-clearing that guarantees thunderous pain in the wired sternum, I ingested no milk products to this date. I've been a dairy man all my life. Today I mixed two scoops of Bomber Blend in cold water and guzzled it like a wild pig. No mucus, color returned to my face, I felt a warm pump all over and I laughed for no apparent reason, the first time in three weeks. Go figure.
I'm seriously considering the elimination of milk from my diet, maintaining some yogurt and cottage cheese and increasing my already substantial intake of the Bomber Blend. Man against mucus!
BOMB SQUAD FLASH
IronOnline, our weekly newsletter, has been delivered to mailboxes and shared for eight years.

Our endeavor began as a weekend curiosity (whatsa-web-site?) at the brink of 1999 and grew into a gazillion (3,000) page wonder. We enjoy each other, we encourage each other, we inform each other, we depend on each other, and one might say we know each other.

Aware of this community relationship, Laree and I do our best to provide the best of everything to make your muscle journey productive, enjoyable and complete: inspiration, motivation, information, instruction, explanation, suggestions and advice in muscle and might, exercise and nutrition, attitude and behavior.

Among our ranks are some of the brightest trainers who have been there, done that, and delight in doing it still. They have joined forces with us to offer devoted bombers direct personal training through IOL. Here's an opportunity to engage in one-on-one training with IOL's finest to progress confidently and vigorously in your training -- workouts, menus and motivation.

This gallant team of muscle minds and iron heads are long-time friends. They are knowledgeable, understanding, honest and generous benefactors who will help you over the obstacles that drive us Crazy.
Enjoy and trust them.
IOL Online Personal Training Program
Did you sign up for Dave's expanded email yet?
It's free, motivating and priceless!
We'll also send you a link to Dave's free Body Revival Tips and Hints booklet with your confirmation notice.


BILL PEARL/DAVE DRAPER LIVE SEMINAR DVD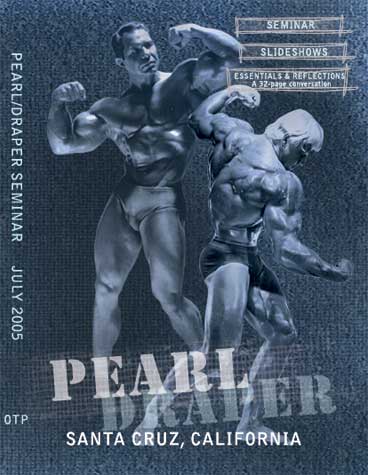 The Package includes a one-hour-and-fifteen-minute tape of the July seminar, two muscular slide shows, plus a 32-page booklet outlining the subsequent interview between the mighty one, Bill Pearl, and me in which we discuss some favorite subjects untouched by the seminar. ~Dave
Cut through the confusion! Grab your copy Brother Iron Sister Steel to make your training path clear.
Readers agree: Dave new book, Iron On My Mind, is non-stop inspirational reading.
Our IronOnline Forum will answer your training and nutriton questions right here, right now.
Golden Era fans will rejoice in this excerpt from West Coast Bodybuilding Scene.
Are your shoulders tight? Do your shoulders hurt when you squat? It's practically a miracle! Dave's Top Squat assists sqatters with shoulder problems.