The Tough Love of Weight Training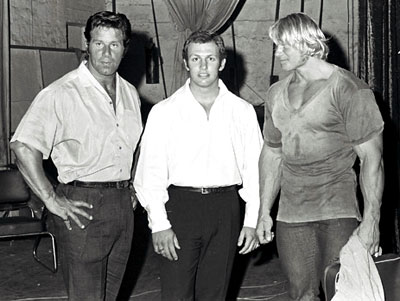 If you'd like to download the full Draper here newsletter in printable, live-link, pdf format, click here.
You want peace and quiet, bombers? Go to the gym early on a cheerful, spring Sunday afternoon. You can hear a pin drop; your voice will echo across the void, any bench is yours and there's no shortage of bars or plates. You can change the music, raise it or lower it, or steal the whole darn sound system, if you please. No one cares, the place is empty.

Laree and I have been exploiting the solitude of the iron-palace on the weekends since my devotion to recovery. You might recall three months ago I had open heart surgery. Februarys are dull and, rather than a trip to Disney World, I chose a quadruple bypass to enliven the month.
It's been six weeks since my last progress report and I thought you might be interested in how I'm doing. I'm okay is my first response, but direct and concise commentaries make for a very short newsletter. Therefore, allow me to elaborate, exaggerate, pretend and lie. Why change my style now?
Okay works. Okay is a broad response and leaves room for interpretation. The tone and facial expression with which you communicate the term is deciding. Okay plus a nod indicates you are, in fact, just okay; okay with a shrug means you could be better; okay plus a grimace is a sure sign you're not so okay; okay with a radiant smile and you are terrific. Okay uttered with an agonizing groan, you're barely surviving.
Okay is what you say when you want to convey reasonable satisfaction with your condition, but you're not willing to jinx yourself with, "I'm great." I'm great is beyond hopeful, and borders on boastful. Okay can be complicated and confusing.
Recovery is not a slow and steady, simple and sure process. It's complex and slow. It's uncertain and slow. It's shaky and slow. It's slow and slow. The one-step-back in the two-steps-forward scenario opens the door to doubt. Every pain causes suspicion, every spasm a skipped beat. Something went wrong. They made a mistake. I'm exercising too hard. I'm not exercising enough.
One day... no appetite, weight loss, dizziness, weird dreams, sleeplessness, aches and pains, breathlessness and no strength and no energy -- swell conditions for the hard-hitting weightlifter. Two days later on the rebound, I want to work out till they turn out the lights. Maybe that's my problem. I do.
I resumed weight training three weeks after my cheery clinical experience, three days a week for a grand total of nine weeks. My response to the time in the gym has been most positive and oddly joyful; the steel mill is my stomping grounds and is completely understood. I huff and puff parking the car, but superset Smith presses with lat pulldowns while noting the pump. I struggle carrying my gym bag, but squat after deadlifting and can still touch my nose.
Of course, the weights are light (coulda' fooled me), but I'm focused and I'm exerting, I'm breathing and I'm pumping.
The last two weeks have been most encouraging. I'm over the hump. Or, to put it another way, I can go through a day without saying to myself "You've been hit repeatedly by a moving van," the descriptive words of my cardiologist during our last visit. My workouts resemble real workouts and I can walk across the gym floor without stumbling, hanging onto racks and uprights, or gasping for air.
Everyday activities are becoming more every day.
The workouts are sensibly shorter and less intense and the weight I handle is, if you can imagine, lighter than ever. As I mention periodically, the pulling isn't bad, it's the pushing that's taken the nosedive.
Last week I deadlifted and the bar was stuck to the platform. I pulled and it pulled back. My legs felt like saplings as the unremarkable weight finally responded to my desperate tugs. I staggered like a newborn fawn, a child's bar-full in my hands, but my back felt like a million bucks. That was fun. Let's squat. I worked my way up to six reps with 200. The squat rack took a beating as I replaced the bar with a crash. The legs are not cooperating.
I'm skinny, struggling to gain a few pounds and reclaim my status as a musclehead. Who'd a thunk it? I'm 208 pounds and look like a transient on welfare. Stamps are all they'll give me at this time, unless I can prove Laree is my spouse and she, too, is without work and a home. Smudges on her cheeks and dressed in her favorite training gear, the girl is very convincing. I'll present her to the welfare board on Monday.
You know as well as I do, recovery gets old fast. Rest and repair are imperative. We understand this and accept it, a bitter pill. It is, at first, welcome, a combination of challenging, comforting and novel. An interlude. We wrestle with distress, we wonder and assess, and we eat, sleep and play dead. New reference points, valuable experience, sharpened appreciation; I'll grow if it doesn't kill me. Progress is regular, improvement is timely.
"Okay. All better. Let's rock!"
Not exactly! There are the setbacks and relapses, the crashes and miscalculations. You're just beginning.
I cannot envision recovery from major surgery without a substantial background in exercise. And, I suspect, most heart patients do not boast a broad understanding of barbells and dumbbells, extension and contraction, muscle-mind engagement and the desire, need and worth of one more rep. It's unlikely they've contemplated health and strength thoroughly, as has the lifter, or pursued and insisted, endured and progressed within that contemplation.
Where will they find the will and wits and courage to do what they must do? How often I was too tired and sick and apathetic to sit, stand and walk or ingest sound nourishment; but I did because I knew I could and I knew I had to and I knew it worked. I had done it all before -- at another level, under different circumstances -- again and again.
Absent the tough love of weight training, I would have been aimless and clueless and spineless. No remaining physical strength to set me in motion, no exercise identification to guide me, no assurance from past successful musclebuilding experience to urge me on, no reference to the pain and gain of progressive weight training to foil doubt and no deep-rooted courage and discipline -- the bi-products of iron-movement -- to put me to the test and keep me there, swiftly and eagerly. No smiles, none, no laughter.
I sit before a sheet of paper with crayons in hand and draw a picture of revival. See the stickman with the smiley face? That's me. The adorable stick-lady holding the furry stick-cat is Laree holding Mugsy. The sticky things behind us that look like trees are trees, and the sorta square with the pointed roof in the middle is our house. The swirly stuff is smoke coming from our chimney.
So far, so good. This week I'll add a big sunshine, a few puffy clouds and some birds flying in the sky. Maybe a squirrel by the blossoming azaleas.
What you can't see beneath the cute sheet of paper is the secret airstrip where my force of secret bombers gathers before we embark on secret missions to save the world. No time to lose, men and women. Board your craft and prepare for takeoff.
Godspeed... DD
THAT BOMBER BLEND
Quick note: To avoid mucus formation and the resultant throat-clearing that guarantees thunderous pain in the wired sternum, I ingested no milk products to this date. I've been a dairy man all my life. Today I mixed two scoops of Bomber Blend in cold water and guzzled it like a wild pig. No mucus, color returned to my face, I felt a warm pump all over and I laughed for no apparent reason, the first time in three weeks. Go figure.
I'm seriously considering the elimination of milk from my diet, maintaining some yogurt and cottage cheese and increasing my already substantial intake of the Bomber Blend. Man against mucus!
BOMB SQUAD FLASH
IronOnline, our weekly newsletter, has been delivered to mailboxes and shared for eight years.

Our endeavor began as a weekend curiosity (whatsa-web-site?) at the brink of 1999 and grew into a gazillion (3,000) page wonder. We enjoy each other, we encourage each other, we inform each other, we depend on each other, and one might say we know each other.

Aware of this community relationship, Laree and I do our best to provide the best of everything to make your muscle journey productive, enjoyable and complete: inspiration, motivation, information, instruction, explanation, suggestions and advice in muscle and might, exercise and nutrition, attitude and behavior.

Among our ranks are some of the brightest trainers who have been there, done that, and delight in doing it still. They have joined forces with us to offer devoted bombers direct personal training through IOL. Here's an opportunity to engage in one-on-one training with IOL's finest to progress confidently and vigorously in your training -- workouts, menus and motivation.

This gallant team of muscle minds and iron heads are long-time friends. They are knowledgeable, understanding, honest and generous benefactors who will help you over the obstacles that drive us Crazy.
Enjoy and trust them.
IOL Online Personal Training Program
Did you sign up for Dave's expanded email yet?
It's free, motivating and priceless!
We'll also send you a link to Dave's free Body Revival Tips and Hints booklet with your confirmation notice.


BILL PEARL/DAVE DRAPER LIVE SEMINAR DVD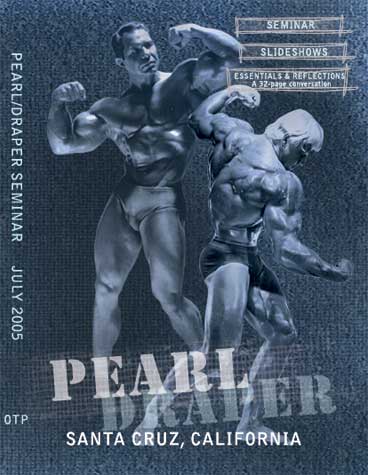 The Package includes a one-hour-and-fifteen-minute tape of the July seminar, two muscular slide shows, plus a 32-page booklet outlining the subsequent interview between the mighty one, Bill Pearl, and me in which we discuss some favorite subjects untouched by the seminar. ~Dave
Cut through the confusion! Grab your copy Brother Iron Sister Steel to make your training path clear.
Readers agree: Dave new book, Iron On My Mind, is non-stop inspirational reading.
Our IronOnline Forum will answer your training and nutriton questions right here, right now.
Golden Era fans will rejoice in this excerpt from West Coast Bodybuilding Scene.
Are your shoulders tight? Do your shoulders hurt when you squat? It's practically a miracle! Dave's Top Squat assists sqatters with shoulder problems.