Timely Instruction for the Young and Not So Young
A guy sends me an email and asks, "What do you do after one of those days of depression when you, the Winged Warrior, realize he isn't as big as he once was?"
I hadn't noticed till he mentioned it, but I obligingly wrote back:
Greetings, Cheerful One,
It is good to have choices when confronted with the revolting truth.
I sit trembling on the edge of an abyss and stare into the darkness. Moaning doesn't do it for me anymore.
Or I crawl into bed and pull the covers over my head. Getting smashed is no longer an option.
Or I have a donut. Hotdogs work.
Or I go to the mall and watch people shop, eat and grow large.
Or I go to McBigGulps and watch people sit, eat and grow large.
Or I make a few minor adjustments and thank God for what I have.
At just the right moment, I go to the gym and play hard. I'm practiced.
Godspeed... The battle-scarred Bomber
P.S.

I train the same as I did when I was in the throes of competition thirty-some years ago, having only reduced the mass of my workouts to match my needs. Once the muscle is established and the years go by, massive work is not necessary, heavy weight is not possible and too much of either is damaging to the body, mind and soul.
My menu is also the same, yet less volume is necessary to satisfy the system. I've improved the intake of choice nutrients -- EFAs, antioxidants, C, E, D and such -- as years of understanding and knowledge have grown. The diet is dialed in daily. Seldom do I stray.

Of course, the selection of exercises has been reduced or modified due to accumulated injury or overload. But the style and motivations are similar, if not the identical. I superset, apply the basics, push to respectable levels, pursue muscle and might in all forms, bow to real limitations, focus with all my might and improvise, as if composing a love song.
I think "huge and ripped" and hope for the best. This opens the front door to disappointment and injury, but also prevents me from falling off the roof and into the backyard.
I underscore my training passion and focus because we have recently reviewed and dwelled upon conditions common to the older lifter (heart stuff, chronic aches, arthritis), which suggests we have become an older person's rendezvous. Egads, man! Not so. Pass me my posing trunks and oil. We are kids, bright, smiley and enthusiastic, hungry and hopeful kids. See Dave lift. Lift, Bomber, lift.
IronOnline has considerable participation from young men and women (under 50... make that 20) who appreciate honest-to-goodness strength and health, and the original glory of musclebuilding. We are vigorous companions and I don't want to offer gray and balding topics as our theme. Certainly you daring and dashing lifters appreciate the heads-up information offered from your older brother and sister combatants. It's valuable and free, tried and true.
Late last week, as promised, Laree and I visited the lone osteopath in Santa Cruz offering IV chelation therapy. He was real and cautious and sincere, a remarkable composition in today's world of fraud, greed and arrogance. The guy's like Honest Abe with a sphygmomanometer. He listened to my sad tale -- arterial blockage, recent surgery, fear of heavy metal intoxication, dismal bench press, saggy pecs and runny nose -- and reviewed the possible benefits of EDTA treatment.
I wish he lied a little, but he didn't; nor did he exaggerate. He believes in western medicine and he believes in chelation. He's smart and fair, unrushed and generous. What a perplexing combination. Get this: We were late for our visit so he charged us half price. Huh? Now Laree's suspicious.
The last time I was late for a doctor appointment, he removed the left rear molar and he wasn't a dentist.
The good physician will assess my medical background; I'll further research EDTA and we'll meet again in a week and make a decision. Treat or not to treat, that is the question. Each IV procedure requires two hours or so, once, twice or more a week (need, tolerance, dollars, convenience) and might continue for three to six months. Response determines duration of therapy. Time will tell.
Now you know everything I know. Duh! To be continued.
As the road before me unfolds and I note its relative, albeit temporary, smoothness, I sit back and enjoy the ride. I'll put in the miles, separating myself from the jolting rough spots and length of detours, and refresh my desire for the ongoing journey. The lessons learned (they are unending) have been tough yet worthy, and are priceless references for the future -- yours and mine, young and old.
• Keep forced layoffs to a minimum is my first thought. Blast it without exploding is my second.
Others, less startling, fall in place:
• Common sense develops with every set practiced, each rep observed.
• When you're attentive and aware, not a moment or movement in the gym is wasted.
• Overtraining occurs when ignorance or punishment replace common sense and sound judgment.
• Injury occurs when ego replaces caution and safety. Injury occurs when you least expect it. Stop. Look. Listen. Go.
• Nothing good occurs when daydreaming or idle conversations replace purpose and concentration.
• Heavy weights, love them as we might, are not as effectual as lesser weights with refined form, proper muscle engagement and maximum muscle exertion. Ripley.
• Training consistently with moderate weights surpasses occasional workouts with heavy weights.
• Fear evaporates when action is applied, like rain clouds before the sun.
• One step forward exceeds two, three and four steps back.
• Depression is compounded by training layoffs. Withdraw with care.
• Gotta treat these bodies more like our dear and beloved friends and less like stubborn mules.
• Growing up is hard to do. We won't talk about growing old.
The gym's serene song calls this steamy afternoon. I'll cruise the Coast Highway to its source as vacationers revel at the boardwalk and bob in the ocean. Iron and steel are my playthings, and squats and deadlifts the game...
...Behold. Time passes. Fatigued and sunburned bodies gather their things and journey homeward. Honking horns and bumping bumpers weave in retreat as another summer day recedes into shadows.
Me? The hot metal, having moved, grows cold. I glide to the shady redwood forest and seek comfort. Lady Laree and a chilled tonic of Bomber Blend await.
Paradise...
High skies, bombers... Draper
IOL Online Personal Training Program
Did you sign up for Dave's expanded email yet?
It's free, motivating and priceless!
We'll also send you a link to Dave's free Body Revival Tips and Hints booklet with your confirmation notice.


BILL PEARL/DAVE DRAPER LIVE SEMINAR DVD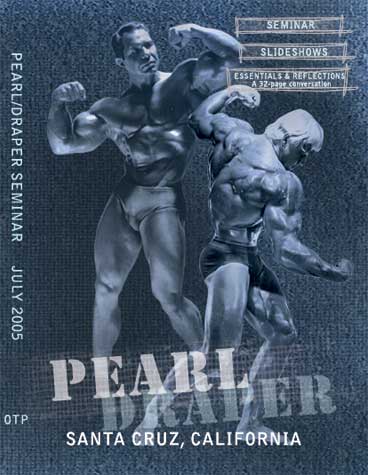 The Package includes a one-hour-and-fifteen-minute tape of the July seminar, two muscular slide shows, plus a 32-page booklet outlining the subsequent interview between the mighty one, Bill Pearl, and me in which we discuss some favorite subjects untouched by the seminar. ~Dave
Cut through the confusion! Grab your copy Brother Iron Sister Steel to make your training path clear.
Readers agree: Dave new book, Iron On My Mind, is non-stop inspirational reading.
Our IronOnline Forum will answer your training and nutriton questions right here, right now.
Golden Era fans will rejoice in this excerpt from West Coast Bodybuilding Scene.
Are your shoulders tight? Do your shoulders hurt when you squat? It's practically a miracle! Dave's Top Squat assists sqatters with shoulder problems.