Much to Say About Nothing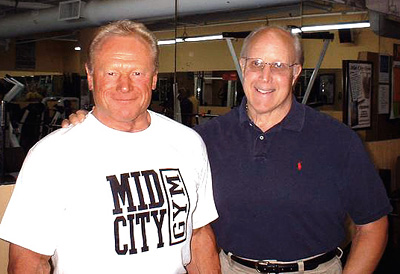 Dave and Mike Katz, at the NYC IronOnline bash
Download the full Draper here newsletter
in printable, live-link, pdf format, here.


Warning: High doses of Permatrain and Powerex secretly imbedded in text.

Laree and I scoot around in a couple of older Toyotas, a '93 pickup and a '96 4Runner, and we're looking for a nifty upgrade to replace the SUV. Prudent, we want the most for the least. God bless us, used works.

I'd rather be in the market for a horse and saddle. It seems the rolling pastures of used cars are bumper to bumper with every year, make, model and color vehicle but the winning combination we want.

I'll take that frisky mustang with the brass-studded saddle. Head 'em up, roll 'em out, ride 'em, cowboy.

Laree decided to take a relaxing and healthful walk in the early afternoon sun along Santa Cruz's substantial row of auto dealerships. Multitasking along the way, L's compelling methodology, she will establish her base heart rate, absorb oxygen and vitamin D voraciously, properly manipulate her hip rotation, outline her IOL blog, calculate the odds of the Belmont Stakes Triple Crown and locate the perfect, almost new, hardly used four-wheel-drive bombmobile. On the way home she'll pick up dinner (six-pack of Bud, hotdogs, buns) at the 7/11 and the mail at the post office. Gas… do we need gas? Oil? Check the tires…

I handily guard the flourishing hydroponics in the basement, the make-shift lab in the woodshed and the still among the lower oaks and feed the pit bulls in the outer perimeter. This, while grinding VINs from auto parts and serial numbers from handguns. Our skills are complementary. Visit us at boomzoom.com, sapsforhire.net and craigslist.

The lady of the loft just returned and it seems we're in the hunt for the season. The vehicle she adored was not a must-have four-wheel drive, the best for the least was too roundy, the cheapest (Buy this dandy today, miss, and I'll knock two grand off the top) smelled like Camels, both the cigarette and the animal, and the to-die-for, absolutely perfect one was "sold 10 minutes ago, lady, sorry."

Neither of us handles stress well. It is in fact why we lift weights. Most of our readers and friends and admirers -- eight to 10 according to polls -- think we train for the glory, the bucks, the status, the celebrity and ego satisfaction, but no. We pummel the iron to calm our nerves and blunt the daily pressures. Our lives are burdened because we are generous and sensitive. We care.

I first met Laree 25 years ago when I was expanding my health club operations in the fine Santa Cruz community. The third and newest facility, 25,000-square feet with an Olympic pool and racquetball courts and heavy and light weight rooms and cafeteria and shops, was stampeded with new members. Laree, two years a civilian after four years in the Air Force and NSA, came to me for help. "How do I get in shape, fast, Mister Draper?"

What could I say? I'm too busy. Go away. Scram. No, not this American patriot. I said, "You can do this, fly-girl. Call me Bomber." She was speechless.

Several things about the details above: The health club I referenced was the fabulous Spa on 41st Avenue; Harry Jenkins, a health club grandmaster, designed, constructed and owned it. He saw me in church one day and asked if I needed a job cuz I was broke, down and out, shabby and muttering [I'll think about it, Harry, my man]; I became a night instructor with light janitorial duties. Post-military Laree, most recently a powerlifter, professional photographer and computer whiz, suggested I instruct her in training as I was awkward, inarticulate, had never trained anyone before and needed practice. I said… umm… whatever, Sergeant, Ma'am. The rest is history.

Count them: 22 grand years of marriage, 15 years of gym ownership and management, 11 years of internet [davedraper.com], nine years of On Target Publications [ontargetpublications.net], seven years of Bomber Blend musclebuilding [hugeandripped.now] and three darling girls and the twin boys, Joe and Ben [bigjoke_veryfunny.org].

Occasionally we train together. I allow her go first and, thereby, manipulate her into thinking she's running the show. That way, while I'm getting her weights for her, she sits and guards our bench from poachers, even though the gym is empty. While I put her weights away, a ruse to allow her time to call her girlfriend on the cell, which she does between sets, I'm able to focus and struggle alone in the corner.

I, also, cunningly pretend I do not want her to count my reps or give me encouragement as I fiercely seek maximum exertion. "May I please have a spot, dear?" She reacts to my wily persuasion and trains on the far side of the gym. Alone, again.

Here's where I catch her completely off guard. I read her eyes and facial expressions, her body language and her specific notations in her log book to determine what movements I should instruct her to do next. My efforts are well rewarded. As if absorbing my power, intelligence and spirituality, the lass, bless her, plods on without a prod from me. I'm alone, as planned.

Unless I'm in charge, I'm one unhappy bomber. My way or the driveway, my plot or the parking lot. Give me control or give me the keys to my pickup truck.

While I sit alone in my Toyota T-100 waiting for Laree (I insist she does her aerobics without my cheerleading), I tidy my gym bag, contemplate my calorie intake and listen to the golden oldies from the rockin''60s (My Baby Does The Hanky Panky, Can't Get No Satisfaction, 16 Ton).

It was during this brief interlude I revitalized my interest in leg training. Can you imagine how I, your humble genius who invented the high-tech, low profile, variable speed, wind-resistant and eco-friendly, yet brilliant Top Squat, misses squatting with an Olympic bar on his own two feet, legs included? Lots. Heavy leg work is absolutely essential to overall body growth and soundness and, in turn, is responsible for aggressive thinking and smart decision making.

Based on last week's venture with the BodyMaster Power Squat and despite my limb limitations and ticker-snicker, I intend to move on. I'll move to Smith Press squats in the weeks to come and onto a Top Squat-adorned Oly for in-rack partials, and then, after much suffering and compromise, the full squat with a bright, wide-awake Neanderthal to spot me. I'll report back to you, or you'll read about it in the IOL MIA files.

Where's Laree? Dude, we're gonna miss Psych.

Da Bomba
---
Did you know Bomber Blend will provide the least expensive and most nutritious meals in your daily eating regimen? It's not an added extravagance to your food budget; it reduces your budget and improves your nutritional intake. It builds lean, strong and shapely muscle. Regular servings of Bomber Blend raise your IQ and enable you to time travel. Made into a poultice and smeared on the scalp will prevent baldness and kill tics. Good stuff.
Scoop the blend into a glass, stir and drink with pleasure and satisfaction, when you need to, want to or should. All the time.
Soak yourself in a taste of bodybuilding's Golden Era with Dick Tyler's on-the-scene record, written in his easy-going, one-of-a-kind style, West Coast Bodybuilding Scene.
Take a trip over to our
New Musclebuilding Q&A Blog
... where Dave allows us a peek into his email outbox.
Did you sign up for Dave's expanded email yet?
It's free, motivating and priceless!
We'll also send you a link to Dave's free
Body Revival Tips and Hints e-report with your confirmation notice.