The Home is Where the Iron is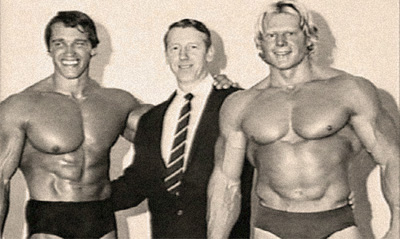 NABBA 1970 Universe
Download the full Draper here newsletter
in printable, live-link, pdf format, here.

The Weight Room Santa Cruz is a musclebuilder's dream gym, just right in every way. The only drawback is it's down the hill, up the coast, through three towns, around the fish-hook, across a dozen intersections and into the industrial district.
Spare me, Hercules!
The gym rat nibbling at the keyboard is considering the pros and cons of training at home, convenience and certainty the most attractive features, limited equipment and space, the least. Attitude and spirit while training alone and the sameness of the day-to-day fight are additional wonders and concerns.
After all the years at neighborhood gyms, though carefully choosing isolated hours, I might need the presence of someone, anyone, during my solitary iron exertions -- a shifting silhouette in the periphery, an occasional clank, a grunt, a nod.
Hello… anybody there?
Perhaps the moments of intense effort will become so alone, the fight will become wholly and utterly mine, undiluted and unadulterated by the presence of a random figure across the gym floor. The silence will be more penetrating, the isolation more complete, the sensations more acute.
Desirable, manageable or impossible? A little familiarity, a few rounds of practice, a fair measure of compromise, a flash of imagination and I bet I can develop the training steel and fervor to carry me forward. Maybe Laree will volunteer as a fascinated spectator, a cheerleader, an adoring fan. "You can do this, Bombo! One more rep!" She has gobs of spare time with nothing better to do. I'll ask her.

I don't think so. You ask her!
Questions: What equipment do I need in my limited space (we're talking bench and dumbbells), where is this limited space located (between L's inversion table and Concept 2 Rower and the recyclables downstairs), what do my workouts look like (a wet goat) and will they be satisfactory (is half-empty satisfactory)?
Gee, no pulleys. This is tragic, catastrophic, a calamity of epic proportions, as they say on CNN; no rope tucks, pulldowns, seated lat rows, cable crossovers, tri-extensions; no joy, no fun, no rhythm nor rhyme. No good. Can I survive dangling by the end of a TRX, though it's not wrapped tightly around my neck? See how my thinking has deteriorated? No cables? Shoot me! I refuse to eat.
Breaking News: Bomber on Bummer
Dumbbell exercises to choose from:
> Biceps – curls, seated, standing, alternate, together, various inclines, preacher
No problems in the golf-ball biceps department. There are more movements than a bomber can shake his booty at, which is an exceptional thing this day and age.
And I don't need a bar, thanks… haven't had a drink in 28 years.
> Triceps – overhead extensions , lying extensions, kick-backs, dips
Those old, threadbare horseshoes will get all the action they can handle and from plenty of angles. I notice the tris thin out as time collects dust, the elbows thicken and they both squeal like pigs when provoked. Dare I pursue strength, health and function before certain pain and unlikely mass? Sanity over insanity? This would be novel… timely, fashionable… quaint.
I miss my pulleys.
Shoulders – standing, seated, incline and flat presses, clean and press, lateral raises, dips
There's nothing missing here to stimulate, propel or preserve the cannonball delts, unless I ponder the larger-than-a-breadbox Smith Press. The bar, guided or free, is a powerful tool, but as necessary as a pile-driver for granny in the old folks home. Seriously, in my yet-to-be considered, written and published book of Draper's Fact and Fiction, I put forth the notion that dumbbells exceed barbells in all conceivable ways -- natural shoulder action, safety of performance, freedom from injury, total muscle and strength development and the joy of motion, and, last but not least, plain cuddliness.
Besides, the time and effort wasted in loading and unloading bars can be invested in dumbbell nuance and finesse, snuggling and stroking.
> Chest – flat and incline presses and flys, dips, pushups
I miss bench presses like I miss boating off the coast of Somalia or backpacking in Yemen. Though provocative, they're not absolutely necessary, healthy, safe or productive. The heck with them, I say. Pass the short, stubby utensils and let me rrrrrip [rave, rage, rock and roll in peace].
> Back and lats – rows, deadlifts, pullovers, pullups
Nerts! Problems of the barn-door-width variety! A simple overhead chinning bar is the best I can do, which would be handy if I could chin. Alas, a threadbare biceps from the bygone, happy days prevents me from risking the movement, a sure tear should I hang 'n tug repetitively.
Lying stiff-bodied on the floor beneath a low horizontal bar and performing a focused chest-to-bar movement will serve me well, along with one- and two-handed row and deadlift variations. Improvise, retool, re-create. Obvious limitations and no record-setting, but the way is clear. Never look back, never let go.
> Legs -- DB squats, sissy squats, lunges, hills, stairs
No more full squats, blessing or curse? I'm way ahead of my time in this frolicsome escapade, my ticker and get-alongs having been cleverly modified to foster growth in my character department. Now you know from whence my courage and honor cometh – stoic suffering and humble self-sacrifice. Did I mention charm? Vim? Swagger?
I assume the muscles, having sought and endured hard and heavy workloads and having developed muscle mass to accommodate those loads, have also reserved enough pluck and memory for the hefty burdens ahead.
Prod before launching rockets. I shall replicate any leg motion I can with zeal and bearable distress, sending seriously affectionate signals to those muscles gone drowsy. Wakey-wakey, Mister Legs. Rise and shine, thigh-guys.
Squats can be cruel, according to my swollen, stiff and achy back, butt and knees.
> Core and midsection -- hanging leg raise, incline leg raise, good-mornings…
There are enough freehand exercises to do the trick. Let's face it, Bud, six-packs are for kids. I shall miss the rope tucks and the variety of motions and muscle-recruitments I can accomplish. But I'm a mature person, an adult, a grownup, a responsible dude…
I'll hang a pulley and cable from the 4x8 support beams in front of the TV in the living room… also a good place for my bench and assortment of dumbbells. Next to the pulleys there's a perfect place for the chinning bar… hmm… a small platform before the fireplace… move the stereo equipment aside and bolt the dipping bars to the studs behind the sheet rock... take down the portrait of Obama, Pelosi & Reid and replace it with my favorite mirror, the one that makes me look huge and menacing… I can squeeze the squat rack next to…
Hey Laree… is this couch absolutely necessary?
Gonzo… Bonzo
---
Did you know Bomber Blend will provide the least expensive and most nutritious meals in your daily eating regimen? It's not an added extravagance to your food budget; it reduces your budget and improves your nutritional intake. It builds lean, strong and shapely muscle. Regular servings of Bomber Blend raise your IQ and enable you to time travel. Made into a poultice and smeared on the scalp will prevent baldness and kill tics. Good stuff.
Scoop the blend into a glass, stir and drink with pleasure and satisfaction, when you need to, want to or should. All the time.
Soak yourself in a taste of bodybuilding's Golden Era with Dick Tyler's on-the-scene record, written in his easy-going, one-of-a-kind style, West Coast Bodybuilding Scene.
Take a trip over to our
New Musclebuilding Q&A Blog
... where Dave allows us a peek into his email outbox.
Did you sign up for Dave's expanded email yet?
It's free, motivating and priceless!
We'll also send you a link to Dave's free
Body Revival Tips and Hints e-report with your confirmation notice.