Bomber Research and Development Update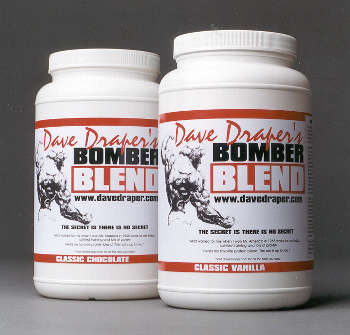 Download the full Draper here newsletter
in printable, live-link, pdf format, here.

Three more days before Christmas, just enough time to shop cheerfully and train chest, back, shoulders, biceps, triceps, forearms, core and legs. Of course, if I run out of time I can cancel the shopping, double up on my training and give everyone on my gift list a tub of life-enhancing Bomber Blend.
Sweet! I not only get bigger and stronger, it's an opportunity to dispose of those un-saleable tubs of Blend battered in shipping over the past year. I'll stick a red ribbon and bow over the scrunched area with a cutsie card attached saying, "The gift that keeps on giving."
Rapt by my catchy words, delighted with the Blend's rich flavor and empowered by the preparation of zoom-ingredients, the recipients will never know I skipped my shopping.
I skip my training and everyone knows. I seethe. I glower. I bleed. Make strong muscles. Soothe weak minds. Prevent bludgeoning bystanders.
Yesterday, Tuesday, the streets were packed with cars heading for malls and markets to engage in the jolly holiday chaos. I cautiously circumvented a line of horn-blowing, fist-waving traffic wrapped around the block entering a besieged Costco and sped on to the Weight Room huddled safely amid trees a quarter-mile away.
Six fellow freedom-fighters had already taken position to secure the refuge.
I manned a flat bench at the rear entry and proceeded to ready my equipment for battle: wraps, grips, water, WD-40. The pulleys needed lubrication badly. Sticky, sluggish pulleys can cause a well-aimed exercise to miss the target. Precision is crucial, as is persistence. Smooth is critical, unless we're talking about muscle tone on stage and under the lights before thousands of fans at the Mr. Big Boy contest.
I had a mellow workout. Just being in the gym was gratifying. I chose the movements casually, applied myself diligently, appreciated the activity and welcomed the completion. Peace on earth, joy to the world, kind of the same feeling I have after every workout.
I do have one problem. No, not an ulcerated liver, collapsed lung or shriveling brain stem. I'm serious. My triceps have vanished. They were there last time I looked in 2005, and now only five years later the ole horseshoes look like flip-flops.
I didn't mean to look; it was unpremeditated, a simple mistake, an accident. I'm innocent, I tell ya… innocent. I was in the locker room about to shower and somebody walked in and turned on the lights.
The elbows work for pressing, dipping and pushdowns, but lying and overhead triceps extensions are limited by pain and it's murder the next day. I'm crazy, but I'm not suicidal. Laree said not to worry… something about duct tape and beanbags and long-sleeved shirts.
Has it come to beanbags and duct tape and the painful discarding of nifty tank tops and Ts? Whatever happened to good old reliable denial? But I do have great triceps. Or plain ignorance? Triceps? Wha? Or common stupidity? I don't need no triceps! Or ordinary oblivion? Who am I?
Oh, and then there are the calves…
Adapting is hard to do. Adjustments take courage. Suspenders, slippers, walking stick, gruel, drool.
Just thought I'd crank up the Christmas Spirits. I have one more workout before the big day and three before the New Year and a tin of chocolate stashed in the woodshed. Don't tell Lalu… she's on a diet…
Furthermore, nevertheless and while I'm at it, I'm not a deeply religious person, though I pretend to worship muscles and the iron. But I am a child of God and I am filled with the Holy Spirit and Jesus is my Lord. To some, that's weird and whacky; to some it's curious, to some it's 'whatever,' and to others it's offensive. To me and my brothers and sisters, it's wonderful and eternal and wide open to everyone.
Merry Christmas to all -- Strength, health and enrichment in 2011.
See ya next week… gotta go… Toys R Us has a sale on bean bags, Ace Hardware has a two-for-one sale on duct tape and Laree's at home hanging tinsel and installing our new website, bomber-beanbag-reality.com.
Perhaps silly putty would work better…
"Hi, Lalu… put a hold on beanbags… I'm thinkin' silly putty."
Bombs away, kids…
---
Soak yourself in a taste of bodybuilding's Golden Era with Dick Tyler's on-the-scene record, written in his easy-going, one-of-a-kind style, West Coast Bodybuilding Scene.
Take a trip over to our
New Musclebuilding Q&A Blog
... where Dave allows us a peek into his email outbox.
Did you sign up for Dave's expanded email yet?
It's free, motivating and priceless!
We'll also send you a link to Dave's free
Body Revival Tips and Hints e-report with your confirmation notice.