Solid, Bold, Mighty and Silly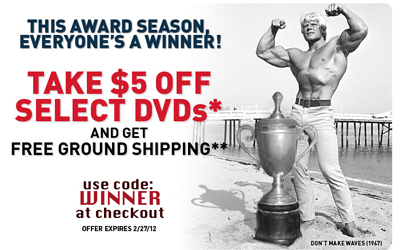 Last week's Warner Brothers Collection DVD ad
No, Dave didn't get a check, in case you were wondering.

Download the full Draper here newsletter
in printable, live-link, pdf format, here.

The weather at our secret launch pad along the western rim of America is absolutely amazing -- sunny, clear and dry, 70 degrees with a whispering breeze. Daylight Saving Time begins this Sunday and spring season about two weeks later. Our bills are paid, there's protein on the table, carbs in the cupboard and a slight layer of fat about the navel and obliques. We're good.
I'd almost be happy -- goodness all around me -- were it not for recurring 175-mph winds devastating precious American neighborhoods, and shootings in high schools and heathen totalitarian rulers murdering their nations' people and the vicious and ubiquitous torment of drugs and smugglers and… let's see... oh, the price of gas. Did I mention jobs and the economy? The Administration?
The above paragraph was a complementary public-awareness announcement. Its purpose is to remind those rascals to go to the gym to train hard -- hello -- to reduce stress, build character, structure life, develop discipline, seek fulfillment, enlist patience, manifest perseverance, eradicate hate, purge malice, rid discontent, eliminate rage, reduce fear, ensure health, endurance and energy and construct cannonball biceps. Did I mention a hunky benchpress and squat? Deadlift?
And you assumed I was on another where-did-we-go-wrong tirade. Hardly! Up, forward and onward are the only attitudes and directions I know. Take a moment to review a short list of words I live by:
"A virtuous man lifts hard, ingests wholesome foods and smiles from the heart,"
commended Arispatopolous to the enlightened warriors at the Parthenon.
"Iron high overhead assures greatness in structure, mind and soul," declared Cicerino the Victorious at the Forum before throngs of the good and mighty.
"Bombs Away," blasted Lady Winifred Churchhall, "Never quit! Never quit!"
A favorite Proverb: "He or she who toils diligently over heavy and inert masses shall delight in a long and productive life."
"I want your muscle and power, your money and babes," announced charming Al Squirt-Gun Caponno at a heist at a downtown Manhattan 24-Hour Nautilus.
I have more, but I'm off to the gym to rearrange the weights like pieces in a chess game. The volley will be brief, strategic and intense. I never lose.
Old Maid, Go Fish and Clue are my other favorites amusements.
There are more advantages to old age than ticket discounts at the movies, Social Security and the excuse that you're hard of hearing. You can walk into a gym, and whatever you do is an accomplishment. I, having been subject to the iron most of my life and captive in steel traps across the nation, appreciate entering the four walls today with an attitude of total freedom. I call it Surprise. It's like Clue, only different.
I figure I have 22 to 24 movements to make from the moment I start playing to the moment I exit the arena. Being well-fueled is an absolute requirement: nutrients in system, Bomber Blend on board, water in hand, intuition in pocket, certitude in grasp. My opening move, though not bold and mighty, is solid, a cunning, hard-hitting and enduring warm-up.
Not infrequently my entire workout is a warm-up. That doesn't mean it isn't worthy. Each workout is, in fact, hot stuff. They call me the Sizzler on the gym floor. Sometimes Sizzlepants. I'm cool.
Warm-ups melt the ice, so to speak, and prepare us for the burning momentum ahead. Beyond serving to loosen stiff joints, assert the heart's courageous beating and lovingly engage the taut, silent muscles, the warm-up advance awakens the mind, asserts the objectives, establishes the mood and sets the tone of the workout. The warm-up is the head of the animal, the eye of the tiger, the hump on the camel's back.
Don't treat the warm-up with disrespect, Bub. That goes for you, too, Sweetheart. This ain't no joke, see.
Here's a review of my last training session. It was Sunday, 3pm, and no one was there, just me, the metal and some hunky guy with a mop. It was a Surprise workout and I had no idea what to do. Upon determining who and where I was, I immediately loaded a plate on the leg press and did 35 reps. They were not as deep as they were some years ago, nor was the weight as heavy by several plates, but the reps were as stern and as pure as ever… and, so was the pain.
I moved across the floor to the grand pulley apparatus where I kneeled and performed 35 precise rope-tuck variations, sat back and finished with six deliberate and delightful reps of pull-ins, or seated lat row facsimiles. High-fives all around… fortunately no one was there to participate in the foolishness.
Four superior supersets, adding plates and dropping the reps by three each set. I was in no rush, but I didn't lounge around between exercises either. I'm warm.
Then came low-incline curls (8-10 reps), into low-incline fly and press variations (8-10) and into low-incline triceps extensions (6 reps). That's a set, or three. I love these extended sets, did a total of four (or 12), adding a teensy bit of weight as I proceeded. Lots of upper body production in one swell foop. My disagreeable heart, not into a whole lot of aerobics, enjoys the ride.
Wrist curls and dips, back and forth for four sets of 10 to 15 dynamic reps, and I'm out the door and on my way home. Gotta save something for the grandkids.
See ya later, alligator. After awhile, crocodile.
Not a chance… Sizzlepants
God Loves Us
---
Take a trip over to our
Musclebuilding Q&A Blog
... where Dave allows us a peek into his email outbox.
Did you sign up for Dave's expanded email yet?
It's free, motivating and priceless!
We'll also send you a link to Dave's free
Body Revival Tips and Hints e-report with your confirmation notice.