Let's Do It Again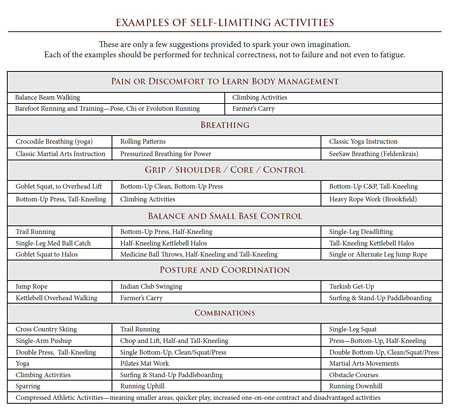 From an excerpt from Gray Cook's Movement: Self-Limiting Activities

Download the full Draper here newsletter
in printable, live-link, pdf format, here.

The evolution of communication: nods and grunts to sign language, cave drawings to smoke signals, stone tablets to parchments, scrolls to books, telegraph to telephone and the computer to Facebook to Twitter. Where do we go from here?
The hammock... stare into space and absorb.
My homegrown, organic weekly newsletter, once a wholesome loaf of whole wheat bread – figuratively speaking, of course -- has been reduced to a slice of dry, burnt toast.
We are four months, one week and a few days into 2012. Spring is at last recognizable along the California coastline. Not hot, but there is warmth; the clouds slip by without intrusion, the daylight lingers just long enough, and the cool of night is welcomed with a healthy appetite and a hissing barbeque fire.
I'll not try to solve the world's problems tonight. Tomorrow is soon enough. Instead, I'll thank God for the peace I have and consider ways to build huge arms and shoulders at 70 without exceeding the limits of my recently replaced pacemaker (one week ago today).
A longtime IronOnline friend, a tough, six-foot, 210-pound 65-year-old musclebuilder, was recently encouraged to enter a popular Masters Mr. America contest. One of the aspiring entrants told him insightfully, "Go for it. Three to six months of intense dieting and training and you could win the over-65 Masters."
Me? I'd want a money-back guarantee chiseled in stone and personally delivered by Hercules.
"My question, Dave: Is it worth all that I have to go through for a shot at the title? I would have to go from 210 to about 190 and give up a lot of strength, which at this age may never come back. I would slowly start this summer and around October really pour it on."
Seriously? Considering the words at that moment, a free man unshackled and unburdened as a man can be in these precious days of life, I cringed, blinked, gasped, shuddered and staggered. Gaining control I snarked, hello... anybody in there? Like, get a life.
Shortly, sadness overcame me for a lone and lost man, an aimless friend, nothing to do, nowhere to go. And he turns to me, lost in Aptos. Laughter, a brief intense guffaw, came only when I imagined myself in my pal's position, an oily most muscular position in faded sagging trunks under hideous, shadowy overhead lights. Oh, no! Is that the theme from 2001 echoing in my ears?
An answer bounced about my head and biceps, my soul and triceps. This is what I chiseled on my keyboard.
"Complicated, isn't it, Arnold (just kidding)? I have a vivid and willing imagination and can understand your thinking. Short answer: Sure, if it serves to enhance you, it fits with your friendships and associations; it's lovable and drug-free, not all-consuming and you've got no project more pressing or desirable and you must do something."
(Not exactly a full-fledged endorsement.)
"I stepped out of competition, which I loathed, when I was 28, 42 years ago. I never looked back. I have no idea who's who in the bodybuilding world. You couldn't drag me on stage today to compete, not with a semi, even if I looked like Hercules Unchained.
"I train for health, strength, practical purpose and longevity; freedom, expression and involvement; the sets and reps, the rhythm and pace and the iron love affair only a few know. Hey, guilt and pain fit appropriately in the mix as well, though I won't try to figure that one out.
"Me? I'm 70 and it's 2012. I do my best to keep what I have with good food, wise training, courage and God's might. Titles can be empty, winning short-lived.
"There are far more important reasons and purposes, attractions and considerations these days than to exhibit a stuttering bod before a quirky crowd. Not anymore... that's the thing of young kids years ago and fools today.
"Curls and presses... Dave
"PS... Are they looking for a mature guest poser or another judge or someone to hand out trophies? ... Sell T-shirts in the lobby? ... Park cars?"
-----
You don't have to sign up for Facebook to read Dave's commentary and interactions on his Facebook page. Dave is on Facebook here:
http://www.facebook.com/bodybuilderdavedraper
Dave is on Twitter, here:
---
Take a trip over to our
Musclebuilding Q&A Blog
... where Dave allows us a peek into his email outbox.
Did you sign up for Dave's expanded email yet?
It's free, motivating and priceless!
We'll also send you a link to Dave's free
Body Revival Tips and Hints e-report with your confirmation notice.