The Bermuda Triangle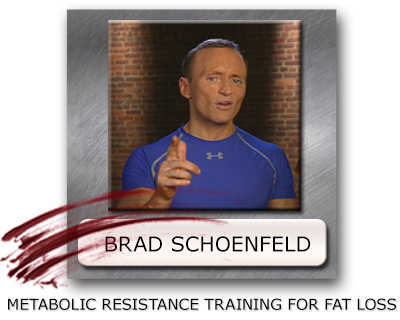 Link to Brad Schoenfeld Metabolic Resistance Training for Fat Loss Talk

Download the full Draper here newsletter
in printable, live-link, pdf format, here.

You spent the winter building mass and power and the spring developing shape and definition. Now is the time to enjoy your hard-earned, carefully honed and richly deserved fitness superiority. It's summertime, brothers and sisters, give me an ab shot.
I typically roll up my shirt sleeves to my shoulders, maintain an all-day pump by consciously flexing my bod, wear faded Bermudas slung low on my hips, and, with devilishly spread lats, cruise the mall, a swagger to my stagger. I'm bad. My hair, slathered with Mister Slick, is combed back like a skinhead. Very cool.
I urge Laree to join me in my jaunts, but she's always busy with one thing or another -- mulching, leaky faucet, rotating the tires. Poor kid, cute as a button, time is passing her by.
Hey, I think I'll get a sports car.
Have you heard the latest from the Iron Hotline? July 15th marks the end of a grand era, bomba-wombas. The Weight Room Santa Cruz, formerly the mighty World Gym, is closing its doors and exiting the premises. By the seventh month's end there'll be no more clanging iron, no more pumping bodies, no more sets and reps, no more curls and presses.
Major challenges are ahead.
Marie, the valiant and sacrificial owner, a dazzling and cheery flower, has fought the good fight, but the brute of time has struck. The word has been spoken, the tale has been told, no more can be said, no more can be done. It's over.
It's the economy, Samson.
Some 350 authentic muscleheads, steel-brows and ironminds, many still there from opening day in '89, will be lost and homeless. Sure, there are other gyms in town, but... a very big but! We're pretending it won't happen, the conclusion, the end, the final day, Armaggedon. There'll be thunder and lightning, and, as the clouds clear and the debris settles, the theme from Rocky will fill the air and the gym in all its humble glory will still be there. The shinning fortress on the coast.
Buck up, girls.

I'm thinking of keeping a bench and a pair of light dumbbells to replace our couch and end table at home.
Were I were to build a gym again today, 23 years later, I'd build it exactly the same, same floor plan, same equipment, same layout, same color scheme. Perfection is hard to beat. Solid, bold and mighty, like a hungry Rottweiler. Woof… woof-woof.
I imagine turrets, a mote and a drawbridge, but there we'd be getting into heavy permits and big bucks.
Incidentally, beyond the drama, there's the equipment -- bars, plates, dumbbells, benches, racks, Cybex, BodyMaster, Hammer Strength, spin bikes, flooring, mirrors and wastepaper baskets. Like a slick, low-mileage muscle car, it's worth a small fortune until you translate it into real dollars. And then you have a parking problem on your hands.
Psssst… hey, buddy… over here… behind the dumpster. Wanna buy a gym? I know a guy who knows a gal. All you have to do is back your pickup full of cash, gold, diamonds or plutonium to the rear door, say the secret code fast, I F A DL 4 U, and we make a fair exchange.
Like the dork in the baggy plaid Bermudas tensing his triceps says, "Get the iron while it's hot, junior; no cantaloupes, home brew or counterfeit cigs in trade."
An offer you can't refuse.
Shortly I shall weave my way down the redwood slopes and up the north coast to a secret pile of iron stashed along the ocean Pacific. A Sunday afternoon in early June, I expect the gym will be empty. Perfect. I love crowds. Arms are the target of the day. 50 years ago they were 20 inches without a pump. Now they're that long from the shoulder to the wrist if I'm lucky.
Who, 50 years ago, thought I'd care 50 years later?
Standing barbell curl with my butt against the preacher curl supersetted with lying triceps extensions -- tough to beat this recently developed combo…
(4 sets x 6-8 and 10-15 reps)
Thumbs-up curls and pulley pushdowns smoking with zeal and finesse… the latest rage…
(4 sets x 6-8 and 10-15 reps)
Ease out with some rope tucks till the hour is up. Collect the sets, count the reps, embrace the burn, savor the pump. There's nothing like them. Two months from now you're on the streets.
God's will be done…
Rock Solid [aka Dusty Deadbeat]
---
Here's the ad Marie, the current owner, is running on Craigslist:
Ever want to own your own gym?
Selling everything you would ever need -- former World Gym needs a new location!
Cybex, Hammer Strength, Body Masters, custom equipment, squat racks, dumbbells, barbells, thick bars, flooring, mirrors, lockers, stereo equipment, Cardio Theater sound equipment, commercial fridge, espresso machine, enough equipment to fill 1,500 sq ft cardio area, weight equipment can fill 6,500 sq feet.
$70,000, or best offer. Original value $250,000+
Email: [email protected]
-----
You don't have to sign up for Facebook to read Dave's commentary and interactions on his Facebook page. Dave is on Facebook here:
http://www.facebook.com/bodybuilderdavedraper
Dave is on Twitter, here:
---
Take a trip over to our
Musclebuilding Q&A Blog
... where Dave allows us a peek into his email outbox.
Did you sign up for Dave's expanded email yet?
It's free, motivating and priceless!
We'll also send you a link to Dave's free
Body Revival Tips and Hints e-report with your confirmation notice.