July Fourth -- Independence Day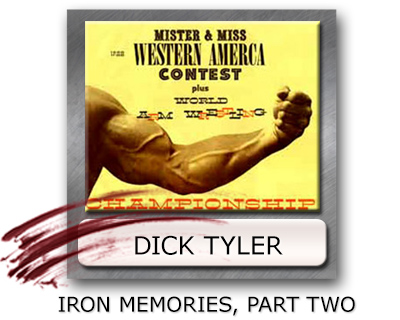 Click here to listen to Dick Tyler's Iron Memories

Download the full Draper here newsletter
in printable, live-link, pdf format, here.

Happy Birthday, America. You're a lovable land, abundant in goodness and brimming with beauty. I want to put my arms around you and give you a big hug.
Sorry for all the troubles you're having at the hands of the morons who can't seem to figure out right from wrong and good from bad. Sorry for the jerks who know better, yet intentionally deceive for power and profit. Sorry, too, for the losers who just don't care.
There is a solution, as we all know: a barbell in every household, a pair of dumbbells in each child's hand, and a tub of Bomber Blend on all kitchen tables from coast to coast. The tools of greatness at our fingertips, we shall rise like eagles in the everlasting skies.
God bless America, the land of the free.
Oh, incidentally, did you know America's bill for 2012 went up by $3,790,000,000,000.00. Paying that, as you know, is an expenditure of $10,400,000,000.00 a day, each day and every day. Gee, that's bigger than a breadbox. How do we pay it? No problemo. We borrow a mere $4,000,000,000 daily to make up for our accumulated shortfall.
And you thought I didn't know my math.
Here's a Tony Robbins video link for more heavy stuff to juggle between sets:

http://www.youtube.com/watch?v=TRaLytkf6vU
Since no one is home on a glorious Fourth of July to read this eloquent and profound communication, I'll save (Save? What's that?) my breath and make this an economical (Economical? What's that?) message for the lean, strong and prudent (Prudent? What's that?).
Lift a lot and grow big… DPD -- Dave Penniless Dollarnot
---
The former World Gym Santa Cruz is for sale. Here's the ad Marie, the current owner, is running on Craigslist:
Ever want to own your own gym?
Selling everything you would ever need -- former World Gym needs a new location!
Cybex, Hammer Strength, Body Masters, custom equipment, squat racks, dumbbells, barbells, thick bars, flooring, mirrors, lockers, stereo equipment, Cardio Theater sound equipment, commercial fridge, espresso machine, enough equipment to fill 1,500 sq ft cardio area, weight equipment can fill 6,500 sq feet. Photos here: weightroomsantacruz.com.
$70,000, or best offer. Original value $250,000+
Email: [email protected]
-----
You don't have to sign up for Facebook to read Dave's commentary and interactions on his Facebook page. Dave is on Facebook here:
http://www.facebook.com/bodybuilderdavedraper
Dave is on Twitter, here:
---
Take a trip over to our
Musclebuilding Q&A Blog
... where Dave allows us a peek into his email outbox.
Did you sign up for Dave's expanded email yet?
It's free, motivating and priceless!
We'll also send you a link to Dave's free
Body Revival Tips and Hints e-report with your confirmation notice.