Lolita and the Goldfish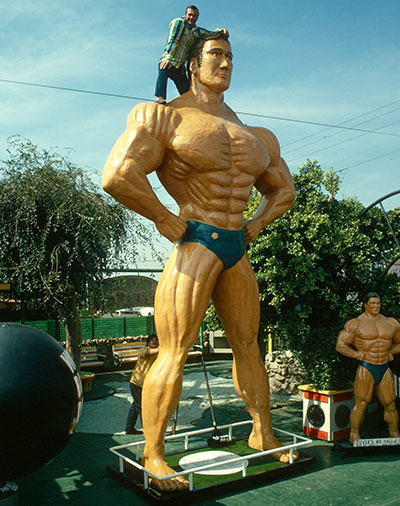 Click here for the collection of Zuverman images.
Download the full Draper here newsletter
in printable, live-link, pdf format, here.

So, there I am, sitting on a bench before an Olympic bar ready to knock out a few sets of wrist curls before exiting the gym -- that moment I've been craving for about an hour -- when an eager young man with an extended hand steps my way. No place to run, no place to hide, I'm thinking wrist curls, handshake, wrist curls, handshake...wrist curls. I submit, relax and receive his hand with hardy aplomb, grace and magnanimity. In for a penny, in for a pound, that's what they say in my financial circles.

The greeting went immediately from, "Hi, pleasure to meet you," to "When you look back at all your years of training, what is the biggest single mistake you made?"
I said without pause, "Alcohol, drinking like a fool for a dozen years solid before I was 40. About wrecked my life."
I figured that would get him heading for the locker room fast… three more sets and I'm outta here. Love a good forearm pump. Instead, his eyes lit up and he smiled broadly. "You've got to be kidding! That's me you're talking about."
Oops! I've got me a brother. We shared a few twist and turns of lemon and lime, and I went on to say, more workout-related, overtraining was my main blunder. Again, my incredulous bud, half my age, said something about me pulling his leg and describing him to the T. And I thought I was alone, perhaps unique, possibly inimitable, certainly unlike others.
He hastened off… phew.
…only to return with his wow girlfriend.
"He used to drink and overtrain," he said loudly, proudly and profoundly as a significant part of our introduction. I grinned like the only goldfish in a bowl. Glub… Glerp… Yeah, that's me… nice to meet you, Lolita.
He and I agreed we were madmen, God bless us, and something had to be done. Yup! I gave the Olympic bar a few nasty twirls and was out the door and on my way, north by northeast, pedal to the metal, homeward bound.
The freeway offers a beautiful, scenic five-mile drive homeward. There's the great Pacific Ocean and the graceful curve of the Monterey Bay reaching for San Francisco, farm fields and horizons forever. At 70 mph the journey is brief. At 70 years the journey goes on.
I always leave the iron altar assured, gratified and relieved. I made it. Is that why I go to the iron, for assurance, for gratification, for relief? You betcha, as they say in Alaska! Some things never change.
Of course, any health, muscle and strength I can preserve is highly appreciated, thank you, Lord.
Might I remind you of the entertainment angle of the workout, the pump and burn, the clangs and thuds, the goals set and accomplished, the comforting association of brothers and sisters in shared struggle and the flowing, rhythmic motion of the dense, shapely iron urged through space. Sheer magic!

Beats a night out on Broadway or a day at Ringling Brothers Circus.
Speaking of magic, my latest disappearing act...
See ya... The Great Davido
~God'strength~
-----
You don't have to sign up for Facebook to read Dave's commentary and interactions on his Facebook page. Dave is on Facebook here:
http://www.facebook.com/bodybuilderdavedraper
Dave is on Twitter, here:
---
Take a trip over to our
Musclebuilding Q&A Blog
... where Dave allows us a peek into his email outbox.
Did you sign up for Dave's expanded email yet?
It's free, motivating and priceless!
We'll also send you a link to Dave's free
Body Revival Tips and Hints e-report with your confirmation notice.