Steve Reeves
This month a door closed that I expected would remain open forever. Steve Reeves died and I didn't know him. I stood behind him backstage at an extravagant Dan Lurie contest in Manhattan off Times Square; he was being awarded a medal of honor and I was pumping up for the evening's exhibitions. I declined, that night, offers to meet the man, the star, the legend of Hercules. He was tall, stately and handsomely dressed. What was he doing here, I thought, the occasion too slight for his presence. I was an oily, smelly and gritty gym rat, a slovenly and garish image in comparison. I was, also, busy. Another time, I thought. The Golden Fleece slipped through my hands.
I missed Steve Reeves on the silver screen, as well. Though he gave majestic form to the meager goals I sought, he appeared to me on posters only. Movie going was out of reach during my childhood. The beauty and heroics of this Hercules, however, could not be chained. I ached to look like him and knew I couldn't. It wasn't 'til after winning the Mr. America that I saw the man again; television portrayed him amidst commercials on a seventeen-inch screen. There was no hiding the handsomest of men who possessed muscular grace beyond compare.
Not many people I hung with or talked to knew Reeves. The Muscle Beach originals, Zabo, Joe Gold, Chuck Collras, Armand Tanny knew him, yet gave me small insight into his life. Rich tales about every real and imagined character that walked the sands of or served hard time in the Dungeon were shared and relived by the players, on stage and off, as the curtain closed on that burnished era. No stories, no observations, not a clue.
In '63 I dropped out of the sky like a lost bell-tower pigeon from Jersey. Russ Warner picked me up in Santa Monica and saw to the restoration and re-direction of my wings. A jewel, Russ took the classic and most prized photographs of Steve Reeves, seeking the heavens and possessing the World. No one comes close to Reeves in stirring the heart by way of muscle and might, balance and striking feature, bearing and countenance. Curious. Russ, in all his vividness and vitality, gave me no notion of who Steve was.
I ask and can answer only one question: Who, after all these years, comes close? No one. One doesn't take perfection, should one perceive it, and improve upon it. You can only admire it and feel very, very good.
Click here to review Steve's book, "Building the Classic Physique," at the Steve Reeves site
IOL Online Personal Training Program
Did you sign up for Dave's expanded email yet?
It's free, motivating and priceless!
We'll also send you a link to Dave's free Body Revival Tips and Hints booklet with your confirmation notice.
BILL PEARL/DAVE DRAPER LIVE SEMINAR DVD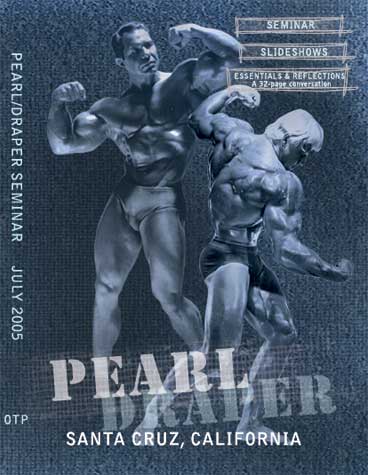 The Package includes a one-hour-and-fifteen-minute tape of the July seminar, two muscular slide shows, plus a 32-page booklet outlining the subsequent interview between the mighty one, Bill Pearl, and me in which we discuss some favorite subjects untouched by the seminar. ~Dave
Cut through the confusion! Grab your copy Brother Iron Sister Steel to make your training path clear.
Readers agree: Dave new book, Iron On My Mind, is non-stop inspirational reading.
Our IronOnline Forum will answer your training and nutriton questions right here, right now.
Golden Era fans will rejoice in this excerpt from West Coast Bodybuilding Scene.
Are your shoulders tight? Do your shoulders hurt when you squat? It's practically a miracle! Dave's Top Squat assists sqatters with shoulder problems.