Me and Mel the Cat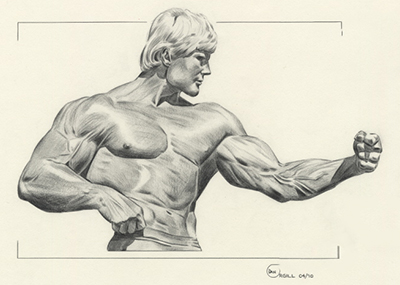 Drawing by Dan Orgill

Download the full Draper here newsletter
in printable, live-link, pdf format, here.
Being a lover of animals, I let Mel, the cat, out of the bag with last week's newsletter. He's a temperamental critter, has claws and nine lives and I couldn't keep him contained with only me to bedevil. I'm at the Melanoma Clinic in San Francisco as you read today's IronOnline report, and I'll have an update next week. Can't wait to read it.
My eye reconstitution was a grand success. What was a green tree in the distance last week is a green tree with limbs and branches and leaves and a bird in a nest with three chicks today. I can see clearly, distinctly, precisely. No fuzzy images, no glare attacks, no faded colors. Joy amid trials, relief amid tribulations. Light-weight reading glasses provide close-up clarity and a dashing scholarly look.
Extra-large thanks for your care, prayers and well-wishes. Good for the heart and soul of the grateful recipient and the generous messenger. And for those of you who neither suffered with me nor provided support, I say may your biceps shrivel and your bench-press recede.
I'm joking, I'm joking. Scheeez…
Getting old is a cute and cuddly experience, as many of you know. Friday, after I went for a blood test at 9AM, an x-ray at 10AM and the pharmacy by 11 to pick up a dozen medications, I went to the gym for a 30-minute workout. Best 30 minutes of the week. On the way home I chugged on a Bomber Blend still cool in the shaker and was stretched out on the living room floor, pumped and semi-comatose by early afternoon. I thrive on frenzy, agitation and adversity and dumbbell pullovers. Fulfillment is sweet.
Walking far and in a straight line are not my most celebrated attributes. I park as close as I can to wherever I'm going, carefully calculate the distance between me and my destination and plan strategic resting spots for the arduous slog ahead. Gold's Gym is 100 yards away. Oh, Lord have mercy.
I unfold myself from the vehicle, head for a convenient dumpster and grab hold as one grabs hold of dumpsters. Breathe, focus and go. I pause at the Ford pickup, all smiles, and grasp its hunky rear fender. Steady, Bomber. Onward to the US mailbox where I lean casually and gasp covertly before I'm off to the entryway and front counter! Hi, there, Alexia…
Huff, puff and Hallelujah! So much for aerobic, phase one. Phase two is my return non-stop dash.
Twenty young guys and a sprinkle of young ladies decorate the weight room. The aerobic area is upstairs, a balcony affair looking down on the empire of iron below. I'll never see that place but for a glancing view in my recently improved peripheral vision. Spare me. My foremost task is to locate a niche on the gym floor where I can perform two or three movements without interruption or having to move more than one or two steps between sets.
I push and pull hard without getting fancy. The fancy stuffy has been done and did. Today I press and curl and tug with customized form, ample-plus exertion and maximisimo concentration. I don't become one with the iron, but me, my rhythm and pain are the only things for miles and ages.
It's not how long you spend on the gym floor, or how much you lift. It's not the gym and the equipment and the character of your training buds. It's not how much protein you consume or the strictness of your nutritional habits. Truth is, it's all about… you know, that certain… whaddaya call it… like… not essence, but central inner… ahhh… it's on the tip of my tongue, I can almost taste it…
It's the last rep of the last set of another amazing workout. Yes!!! Bliss!!!
God Bless iron heads and their pumps and burns… Dave
-----
You don't have to sign up for Facebook to read Dave's commentary and interactions on his Facebook page. Dave is on Facebook here:
http://www.facebook.com/bodybuilderdavedraper
Dave is on Twitter, here:
---
Take a trip over to our
Musclebuilding Q&A Blog
... where Dave allows us a peek into his email outbox.
Did you sign up for Dave's expanded email yet?
It's free, motivating and priceless!
We'll also send you a link to Dave's free
Body Revival Tips and Hints e-report with your confirmation notice.