Larry Scott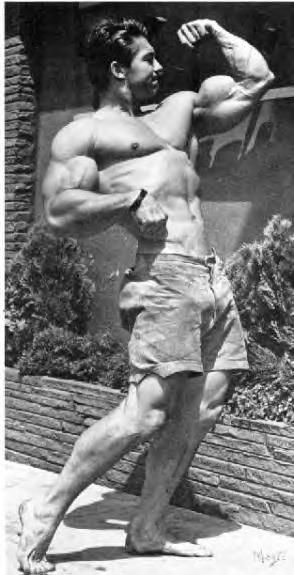 Download the full Draper here newsletter
in printable, live-link, pdf format, here.
Larry Scott died early Saturday morning. He was 75 years old, a very good man.
The man was smart, witty and clever, cool, calm and collected -- a massively muscled bodybuilder of unconventional style, the breakaway crosscut of Gironda's lean 'n mean Vince's Gym. Conspicuously absent, the bench press, squat and deadlift did not confine or define his training a la Muscle Beach. Like his incredible arms, Larry was big and strong of heart and soul and mind.
My memories of Larry manifest as a series of snapshots, not a stream of flowing experiences and connected occasions. They're old and faded, not because they're slight or inconsequential, but because so much time has passed. I haven't seen Larry for 10 years. What's more, we didn't share a lot of time together in the day. Larry wasn't Party Marty, and I wasn't Jolly Wally. He trained at Vince's Gym in North Hollywood; I trained at the Dungeon, a shout from the beach. The two arenas, like scissors and rock, did not correspond.
The first picture I conjure for your view is clutched amid a fistful of worn and faded images some 50 years old. That's Larry in sweats, pants cut off at the knees and top cut off at the shoulders. He's standing before an upright bench, his particularly huge arms slung over slim padding as he curls a short bent bar. My mind darts in and out of my head as I attempt to access the dim fleeting circumstances.
The device he enveloped with mounds of heaving muscle was to become known as the Scott bench, his custom-shredded attire was to become the popular dress code of the yet-unhatched millions of bodybuilding fans. The indistinguishable, sparsely lit store space was Vince's gym, named after the gnarly, older guy leaning against the wood counter fielding a call from the pay phone hanging on the wall. The tidy little mess was in North Hollywood, that same Hollywood that was home to stars and glamour and the Sunset Strip.
I was Jersey-fresh, a pale pile of ill-fitted muscle, yet to find a home, gym or health-food store in sunny California. Muscle Beach and the sparkling Pacific caught my eye.
Larry grinned as he trained, probably cuz his arms seemed to grow an inch with each set and rep. I stood there and gawked, noting that I scowled rather than curled my lips upward while training. I was Mr. New Jersey, that's why (think grey and trapped). He was Mr. California and Mr. America (sunny and free). When he spoke, he articulated. He didn't mumble, pause or waste time, mispronounce words or talk stupid. I think he had college grad neatly engraved on his forehead, just below his carefully coiffured hairline.
Gee, I felt self-conscious. I wondered if Larry ever got dirty.
Neither of us drank or smoked in the early '60s, which was good, though we did drop acid one evening at the hillside apartment Larry shared with Bill McArdle. Don Howorth lived in the space below and joined us as the sun set and pulsating spirits and planets converged. The four of us grinned at a kaleidoscopic edge, vaguely drifting in altered time to Jimmy Hendrix and the Stones. We cool. Don's shoulders reached from one side of the room to the other. The digs were small, unnecessarily accentuating his width.
A couple years later, a lifetime under the iron, we stood backstage at the Brooklyn Academy of Music, a weird place for a world display of throbbing muscles. Larry sought the first-time-ever Mr. Olympia title, 1965, and I, the Mr. America. We each won to rousing applause. We did a repeat of the treat the following year, Larry Mr. O '66, and I the Mr. Universe. Hip Hip Hoorah!
We did what you'd expect muscleheads do behind the scenes of a bodybuilding contest. We greedily 'n anxiously pumped up, panted, ghost-posed, sweated, applied oil, sipped water, encouraged, feared and rooted for each other and longed to be somewhere else. I oiled his back, he oiled mine; I said he looked great, he assured me likewise. Emotions, like colorful spheres of a carnival juggler, flew high and all over the place, seldom hitting the floor. A bond is established, lions in a cage, horses before the starting gun, haunted marionettes, their strings slack before manipulation.
We both dragged over-sized trophies 3,000 miles across America to our west coast mantels.

Sometime during the spring of '66 I watched Larry, my jaw hanging down to my knees, perform a series of bombastic front-flips and back-flips accentuated with graceful cartwheels on the evergreen lawn at MGM's back lot. Did you see that? Outstanding! He was a competitive gymnast sometime in another life. I wished I could tumble -- stumbling into a lamp post was my best equivalent. He was there, as was I and the rest of Muscle Beach and Vince's Gym, responding to a studio call for actors with muscles for a part in a movie called "Don't Make Waves."
Twice a week during the winter and spring of '66, Larry and I, along with handful of young hopefuls, attended acting classes at the Century City home of Peyton Price, a then sought-after TV director. I could stumble and mumble, kick sand and splash. I got the part. I think it was my hair.
After that, time and place and people and space separate. Musclebuilding grew up, and we grew up, and we grew old, and older.
I thought I knew Larry well, that we spent a lot of time together, been there and back and would cover each other's butts when we needed to. Phone calls now and then, how ya doing, what's going on, can you believe how time flies? See you at the Expo, the Dinner, the Old-timer's Get-together next time you're in town. Yeah, yes, you bet!
Larry was mid-'60s cool. The sharpened edge of the cutting-edge physiques to blast from the earth's weary surface and rip into space, a new generation, a new breed of muscular men and women. Strong and hard, large and shapely, ripped and cut, vascular and approved. Approved, universal and inspiring. Larry Scott lives on, as masters do, as mighty men do, as gentlemen and heroes do.
See you around, Mister O.
Click here for more memories of Larry Scott.


-----
You don't have to sign up for Facebook to read Dave's commentary and interactions on his Facebook page. Dave is on Facebook here:
http://www.facebook.com/bodybuilderdavedraper
Dave is on Twitter, here:
---
Take a trip over to our
Musclebuilding Q&A Blog
... where Dave allows us a peek into his email outbox.
Did you sign up for Dave's expanded email yet?
It's free, motivating and priceless!
We'll also send you a link to Dave's free
Body Revival Tips and Hints e-report with your confirmation notice.