Some of My Best Friends are Dumbbells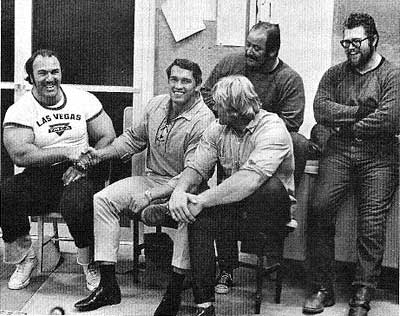 Download the full Draper here newsletter
in printable, live-link, pdf format, here.

We physical culturists at IronOnline have been faithfully discussing muscle and might for 15 years, touching on subjects ranging from nutrition to powerlifting. Of course even the chattiest of us iron-slinging maniacs run out of strength- and health-related topics to discuss. That being the case, I suggest we direct our attention to more sensible issues, particularly politics and religion.

"Guard. Take this vulgar and scheming reprobate to the pits."
Aren't you glad work out and have responsible matters to attend -- barbells and dumbbells and their role in your life? The iron and the gravity accompanying it contribute to solving problems and diminishing stress while offering entertainment, relief and satisfaction.
Weighty Observation of the Week (WOW): Dumbbells are hard-headed, heavy-hearted and cold. They may be well-rounded, even playful on occasion, but they are not very sharp. You do your best to lift them up and they continually resist. They clink when you expect them to clank and they'll clunk rather than thud. Try talking to them and they don't hear you; they don't listen and they don't care.
Mindless hunks, they make a racket the instant you engage them, but they are without speech in spite of their formidable presence. Many powerful people have approached simple and silent dumbbells and, after a brief interaction, walked away wincing in pain, burning and aching.
The strong and courageous worldwide hasten to declare, "We moan and groan, yet without dumbbells, particularly in balanced and well-adjusted pairs, we are empty-handed, lost and alone."
Leading the charge in such a pronouncement and contemplating the importance of barbells and dumbbells in my life, I have arranged membership in a second gym, each a back-up to the other, should a catastrophe occur.
The Gold's gym, my current iron digs, is great on all fronts: ownership, staff, equipment, cleanliness, order, respect and attitude of the members, even though they're healthy and happy, good-looking and 25 years old. But -- and this is a big but, one T -- it's located in a neighboring town 10 miles south. Too often this B-72 wants to feel the wind beneath his wings, but he's lacking the get-up in get-up-and-go to go.
… Light Bulb Moment…
Aha! I know what to do. Train at the local fitness club, lightweight and clean with a more mature membership, and it's just two miles away by surface road.
Not only tall, dark and handsome, I'm also a man of my word.
I joined the nearby gym and had one workout to look and see and feel my way around. Get this: Originally it was called the Spa, and I worked there as an instructor for three years 30 years ago. Where there once were racquetball courts, there's now a gym floor filled with lightweight circuit training machines and enough free-weight to bruise my big toe should I drop it.
I park in front and within 30 paces I'm standing amid the three pieces of equipment I need to do the 30-minute trick: pulldown machine, press machine and cable station. There are dumbbells and an Olympic bar at my fingers.
I would have screamed five years ago, but now the gear within reach is satisfactory and the folks to my left and right are slightly younger and slower than I. Can you imagine?
I beat myself up, and 30 minutes and 30 paces later I was in the cockpit, throbbing and grinning and on my way home.
I'm thinking of making an awesome comeback.
Fueled and RTG (Resting The Glutes)… B72 Bomber
PS -- Lift up the righteous, dear God, and take down the enemy.
-----
You don't have to sign up for Facebook to read Dave's commentary and interactions on his Facebook page. Dave is on Facebook here:
http://www.facebook.com/bodybuilderdavedraper
Dave is on Twitter, here:
---
Take a trip over to our
Musclebuilding Q&A Blog
... where Dave allows us a peek into his email outbox.
Did you sign up for Dave's expanded email yet?
It's free, motivating and priceless!
We'll also send you a link to Dave's free
Body Revival Tips and Hints e-report with your confirmation notice.