I'm Thinking of a Time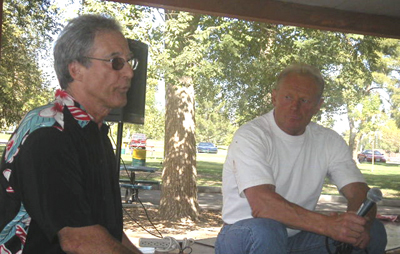 Frank Zane and I answering questions at our Las Vegas Bash 2002

Download the full Draper here newsletter
in printable, live-link, pdf format, here.
I always enjoy a phone call from Frank Zane, and yesterday's call was no different. After 15 minutes of chatter, memories and laughter, I remembered a time we travelled together, another time filled with conversation and laughter… and embarrassment. We nearly give up life and limb to avoid this wrenching exposure of our raw and delicate ego. Also known as humiliation, this cruelest of feelings is one I regularly endure and find extraordinarily educational. Kind of like a training injury, it gets my attention, causes me to focus and guides me on to repair and rehabilitation.
Hopefully, makes me a stronger person. Hmmph.
I have one such memory that's clear and still causes me to shudder. Frank, his wife Christine and I met at the Paris Central Train Station at 7 one downcast autumn morning to continue our tour of Europe. It was a busy mid-week workday and Europeans use the rails like we use our cars to get around, up-town, cross-town, and out of the country. We were destined to arrive in Brugge, Belgium by early afternoon. Our 8:30 express was packed with solemn commuters subject to another day of mundane travel, newspaper folded, thermos underarm, briefcase in hand.
As if in a black and white segment of life we ever-so-slowly lurched forward: the collective metal of 17 passenger cars and freight carriers creaked and groaned. I looked across endless acres of track, side by side and intertwined, a scattering of switching poles and signal towers, distant corrugated factories, bleak and gray. There were engines of crushing size and power moving incredible mass and solid iron and impossibly thick wheels and axles of steel. Smoke and steam idly drifted and belched from the leaky, Gothic landscape.
Frank looked uneasy, Christine smiled agreeably (everything about Christine is agreeable), and I sought to capture the moment. The London Mr. Universe was behind us, a rather sloppy performance on my part after I got a late start, grabbed the wrong bottle and wound up smearing wheat germ oil on myself backstage. It's thick, gooey stuff like glue that smelled rancid and got a lot of attention. I barely got through that night and that's not even the embarrassment.
Frank won the amateur Mr. Universe; Arnold, the pro Mr. U; and I came in third after Reg Park. I'm using lighter fluid to remove the organic oil as the celebrations begin. Don't come near me with that match.
The next day I made a quick return to Ohio for an Olympia sortie with Arnold and Sergio, another hysterical blitz. And now, here I am with the Zanes for a brisk tour of Europe, just to say we did, and back to New York City for the Mr. Universe, Mr. America, Mr. World competitions. Give me the here and now, win or lose. I began to settle down to see what I could see. Soon we'd be traversing the romantic countryside of France. Sights and sounds of a very different place, perspectives of very different people.
Frank suddenly raised his window and stuck his head out as if he knew where we were and where we were going. The clanging, shiny and angular abstract of tracks told me nothing. Frank declared we were on the wrong train, going in the wrong direction. Christine's smile broke into something like laughter, and my sweet reverie bristled to alarm. We conferred like The Three Stooges as our fellow commuters mildly looked on... Entertaining Americans, a troublesome yet comical lot. They act as if their pants are on fire. Wish they'd stay home... The train picked up speed, the clacking increased and the dense railway yard thinned out.
Frank, AKA Mr. Universe, leaped over me, hit the center aisle and in two strides reached the box marked Emergency Only. He shattered its glass covering with the tiny hammer and pulled the handle with the thrust of a heavy one-arm row. The train screeched as if tortured, all wheels locked and inestimable tons of mechanized iron slid forever to a pronounced halt. The side door automatically unlatched and partially opened. Our escape.
Once stopped, we dragged the door open. At a time like this you pretend nobody else exists, just you and your two invincible buddies. If only we could stop time, step out of the picture and watch from a safe place as the action resumed. All three of us looked down to discover we were six feet from the tracks and 500 yards from the station. The commotion behind us was building and beginning to organize. As if catapulted by an unseen force, Frank and I were airborne with Christine close behind, still genuinely enjoying herself.
Heads were out the windows, hundreds of them. Necks straining, expressions of shock, fright, confusion, anger and relief. Hundreds of animated faces were shouting and glaring at us. With no composure, no grace, no brains, we grabbed our luggage and made a run for it, a sad and desperate trio staggering as we balanced suitcases and gym bags over slick tracks and railroad ties with conductors, security police and a half-dozen furious passengers in hot pursuit.
Tell me I'm dreamin'... I don't think so. Frank did it. It was him.
I was tired and not up to the long walk back to the station. The conductors were prompt and serious. So were the police. By the time we reached the concrete loading ramps of the station, a rather sizeable crowed had gathered. Nobody asked for an autograph or a most-muscular pose. There was an interrogation through an interpreter, phone calls, paperwork, apologies, a fine and we were in Brugge by early evening. There we found the gentle old Europe of cobblestone streets and tiny backyards where gates hang crooked on rusty hinges.
There we received awards for our contributions to physical culture. My award was engraved on a six-inch brass plate; Frank's was a gold cup on black marble standing 18 inches tall. I should have pulled the emergency cord. You see, it's that kind of directness and determination and oneness of purpose that enables one to win Mr. Olympia three times in a row.
Frank promises to dedicate the winter issue of his Building the Body quarterly to my bodybuilding history. Somehow I doubt the Paris train memory will make the editorial cut. Here's a link to his publication; take a look: Frank Zane Building the Body.
dd
-----
You don't have to sign up for Facebook to read Dave's commentary and interactions on his Facebook page. Dave is on Facebook here:
http://www.facebook.com/bodybuilderdavedraper
Dave is on Twitter, here:
---
Take a trip over to our
Musclebuilding Q&A Blog
... where Dave allows us a peek into his email outbox.
Did you sign up for Dave's expanded email yet?
It's free, motivating and priceless!
We'll also send you a link to Dave's free
Body Revival Tips and Hints e-report with your confirmation notice.