The Critical Bench Interview, Part One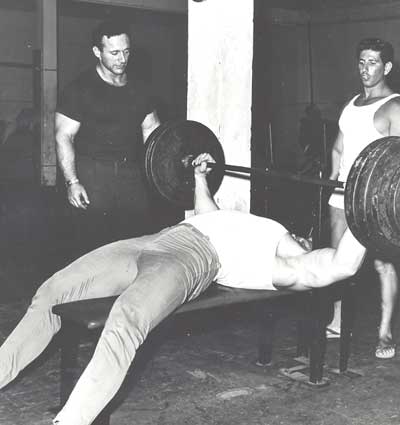 Download the full Draper here newsletter
in printable, live-link, pdf format, here.


This is part one of an interview Laree found from CriticalBench.com from 12 years ago. We'll catch up with part two next week.

What's your advice for a younger lifter who wants to be a bodybuilding champion?

Think twice about the champion part and fall in love with the lifting of iron and steel. The goal can get in your way, causing you to trip over your feet before you learn how to squat. Train hard, eat right, find joy in the disciplines and practice them consistently. Grow up and into the sport day by day, and thus avoid setting yourself up for disappointment, expecting too much, being ever critical and trying to satisfy an image.

The real deal is in the training, the struggle, the perseverance, the self control and the determination. The champion will rise up from these qualities.

Goals are important to me. I prefer direction and am most productive when they're clear before me. But the top floor is too far away and I get dizzy looking up. Step by step, one floor at a time with guts and persistence. That's the certain way to the top.

You, dear reader, have chosen a fantastic activity to build your life around. It requires hard work, thank God, and only basic knowledge as your education. The rest comes from you, your diligent practice, your sacrifice, your strong will, self-awareness, trust and patience. You see, there are no shortcuts, no secrets. It's you, the weights, the awesome gravity and the clang of metal, deep breathing and sweat and pain and joy.

Encouragement from each other is priceless, like oxygen to a drowning mate. Too much information and endlessly seeking it is a dead end. We're all different with different needs. Who are you? Train long enough and you'll find out. It's the basics in working out and eating right.

What was your favorite bodybuilding moment?

I won Mr. America in 1965 and Mr. Universe in 1966. Things in bodybuilding were moving fast in those days, and the sport was taking its first steps toward the moon. Onstage and winning those titles with the competing champions was nothing short of sensational. The contests were held in the Opera House of the Brooklyn Academy of Music, and the audience was brand new to it, standing room only. They didn't know what to expect; they had no previous exposure to the likes of the new champions and they were completely uninhibited.

You'd have to have been there. The roar of the crowd was almost frightening. Never had I expected so much honest emotion to erupt from a bunch of happy-go-lucky bodybuilding fans. The exuberant human sounds came in huge waves and we felt literally lifted up and shifted. The staging shook, the curtains quivered and the NY union workers grabbed their gear and readied their posts as if soldiers under siege.

What a night. The crowds are great now, but they've been there, done that, if you know what I mean. Nothing like spontaneity in those early years.

How do you see the future of bodybuilding?

Not through tired eyes, though they may bear a slight squint. I love it more than ever, though I have always thought of it as lifting iron or musclebuilding.

I wish more people would see the picture and get in shape, but that's not happening in the next 24 hours. About bodybuilding, I see it traveling the same road for a while. There are actually several roads, the highways and the byways. The highways serve the fast-paced sub-culture of extreme bodybuilders who will continue to seek the extremes and thrill an audience of crazies. Can't hold them down, though the big market might not support them forever and they might slowly diminish in popularity. The core will become smaller and tighter with greater critical mass.

The byways are bumper to bumper with standard bodybuilders and muscle makers, some who are on a little stuff, some into natural competition, some who just love being strong and in good shape and striving, and some who loved it when they were kids and now that they're 40, 50 and 60 and want it again: good health and muscles and might and long-life and sweet training.

That latter fringe is growing.

Tell you the truth, I'm not crazy about the bodybuilding thing or the fitness thing. Too dopey, imitated and false. I like the iron, the intensity, pushing and pulling and making muscles.

Yeah, like that's not dopey.

dd
*****
Take a trip over to our
Musclebuilding Q&A Blog
... where Dave allows us a peek into his email outbox.
Did you sign up for Dave's expanded email yet?
It's free, motivating and priceless!
We'll also send you a link to Dave's free
Body Revival Tips and Hints e-report with your confirmation notice.