Progress Is Around the Corner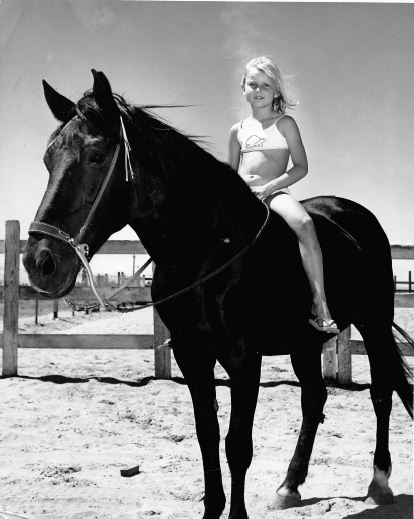 Jamie (Draper) Johnson, RIP 12/10/2016
Artie Zeller photograph

Download the full Draper here newsletter
in printable, live-link, pdf format, here.

Although we're in the middle of a historic set of storms here on the central coast, it still doesn't take a clairvoyant to tell us spring is around the corner. It takes a hopeful and impatient musclebuilder up to the ears in wet and cold and stiff. Where are my shorts and tank top? All eyes are on the horizon as we look for the groundhog, budding flora, the robin red breast, a rise in temperature, clear blue sky and strong sun and the lengthening day.
A few months too early to be looking, but we are forever optimistic.
We're the same way about our training -- wishful, eager, expectant. We train, look and wonder. We work out in the morning and probe for improvements in the evening. Nothing there. We do it again the next day and grope again the next night. Nothin' nowhere. AM we push the iron, PM we explore the barren unknown. Nada!
Been weeks (months or years), must be doing something wrong. Reps are too high, too many sets. Not enough reps, more sets. Wrong exercise combinations, incorrect muscle groupings. Perhaps the Bulgarian methodology I'm practicing is for Bulgarians, whereas I'm a German-Hungarian from Secaucus, New Jersey.
Time creaks along, the body grinds along and we groan along. Progress is around the corner. More like over the mountain pass, across the raging river, along the dark abyss and through the wild man-eating jungle. We change the mirrors in the bathroom; we add heavy overhead lighting; we apply oil; we pump up; we squint. It's been... what... almost a month, and still no stinking muscles.
Patience is one thing, but longsuffering is for saints, poets, lovers and clowns with sad faces.
Oh, I can remember the long insufferable months and years. Those persistent, resistant biceps -- 15 1/4 inches held my gaze when I was 17. The stubborn pounds -- 170 was my first focus on an unmovable bodyweight. The obsessive calculations distressed my youth and innocence; I really wanted 16 1/2-inch arms and a bodyweight of 185 pounds. Only then would I be satisfied.
And where are the lats?
The phases came and went amid the rough and tumble process of growing up in a world not so friendly. I mean, what do taxes, war and a career have to do with me? Unions, voting and medical insurance? I'm just a kid. By 20 I was 200, by 22 I was 220, by 23 I was 230 and Mr. America.
And then I said to myself, "Maybe I'm doing something wrong. Reps are too high, too many sets. Not enough reps, more sets."
Rings a bell, sounds familiar, been here before. Nothing changes, bombers -- only the clay we mold and the hands that do the molding.
Here I am, still clueless. I long ago narrowed my workouts down to include a dozen different exercises.
Note: Exercise, or any variation of the word, I'm compelled to mention after all these years, is not a sufficient word to convey the action imbedded in the activity I reference as "exercise." Got that? Sure ya do. Exercise is... well... wimpy in comparison. Long before the current trend, I always preferred the word, "movement."
See what I mean; feel the difference? Expressed therein are liberty, strength, dimension, action, distance and space.

Let's try that again: I narrowed my workouts down to include a dozen different -- drum roll, maestro, please -- movements. That's so much better: clearer, inclusive, energetic, powerful and limitless. A dozen different movements are like a thousand different exercises. Movement indicates the wide range of motion and finesse of motion, improvisation of action and invention of groove. One does exercise as prescribed. Another does movement as felt, according to instinct, need, ability, capability and creative purpose.
Rocket launching is movement; the countdown is an exercise.
I had to bring a little science into the picture or you might not believe me.
What does any of this have to do with lifting weights and getting strong, huge or shapely -- our primary interests? Weight training is not only a physical matter; it is a thing of the mind, a matter of perception and conception as well. Look... I'm not trying to complicate things or sound heavy. Nuts to that. I'm offering an easier, less restrictive, more engaging and creative way to work out.
There are plenty of guys and gals at the gym who lift weights according to prescribed form and format. Good. Form and routine are important. They look the same and perform the same month after month. God bless them. But in time, a bright trainee, if at all involved with the training, will (and must) personalize the exercises and routines. We execute an exercise to engage the muscles most effectively for muscle growth and muscle performance, despite prearranged design. We'll stretch out, cut loose, stray from the norm... sniff around.
Any variation in exercise implementation extends the exercise into the "movement" category. Once, where rigid positioning and muscle isolation were recommended, looseness and broad-stroke motion take precedence. Strictness gives way to freedom of movement led by the muscle's need, not by instruction.
The engaged trainee -- one following instincts and needs and desires and inner guide -- finesses an exercise like an MVP linebacker carrying the football down the field of a crowded defense, zigging and zagging, rushing and dodging. We squeeze the reps out of an exercise like water from a rag, squeezing and twisting, re-gripping and squeezing again.
I'm talking about you here. As you ramp up your 2017 workouts, look for engagement, attention on the movement.
Later... Dave
*****
Take a trip over to our
Musclebuilding Q&A Blog
... where Dave allows us a peek into his email outbox.
Did you sign up for Dave's expanded email yet?
It's free, motivating and priceless!
We'll also send you a link to Dave's free
Body Revival Tips and Hints e-report with your confirmation notice.