I Remember When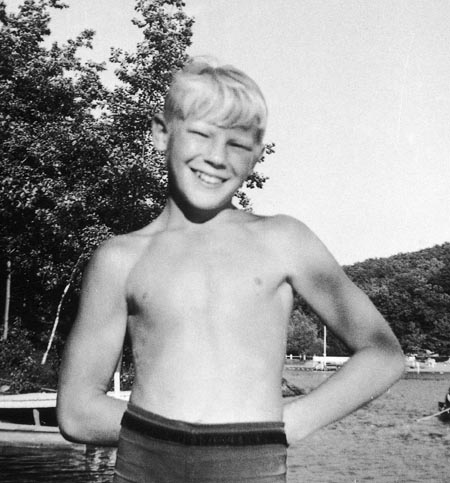 Download the full Draper here newsletter
in printable, live-link, pdf format, here.

I remember when I was kid working out in my wedge of a bedroom shared with two older brothers. I can recall only bits and pieces of my pre-teen iron struggles, causing me to wonder how much I trained at all. Ah, but these patchy images indicate the novelty of exercise was outlived and replaced by enduring hard labor instead. I approached my meager 30-minute bout with the iron like self-imposed detention from which I needed release. Sounds like fun for a 10-year-old; how long is this boyhood infatuation going to last?
Evidently, by rummaging through wall charts and mimicking exercises demonstrated by the Brunet brothers -- remember them, muscular Canadian twins working for an aspiring Montreal entrepreneur, Joe Weider, circa mid-'50s? -- I devised a routine that was worthy of sufficient repetition to cause boredom and some accompanying bumps of muscle. I learned early on that this weightlifting stuff was not a game to be played like batter-up baseball, jump-and-shoot basketball or pass-and-run football.
It was me, myself and I, crowded at the end of my bed with a stack of jangling, defiant weights that no one cared about but me.
My recollections show me alone as I rolled the wobbly inert mass around the worn linoleum floor. I balanced them on end and crawled under them. I pushed and pulled them, curled and pressed. I mightily applied the bothersome flat alloy wrench to the red collars and changed the weights from light to heavy and back again, always expecting the plates to unfix and fall on my head. The screws left barbed gouges in the 16-inch bars.
The object wasn't cheering and scoring points, winning or losing, now or sometime soon. The purpose wasn't running and jumping, throwing and catching and bouncing off a teammate's shoulders and energy on the field in a vigorous afternoon. The motive was wishful thinking, a kid's hope, the dream -- a daring image of a muscular form (me) flitting around in my little mind.
Where'd that come from? Now you see him, now you don't.
My next cast-iron memory includes a pair of dumbbells and a bar next to a mattress in the basement, two chairs back-to-back for dips and a splintery wooden chinning bar rigged across overhead beams. I'm 15 and the Weehawken High School coach calls me "Arms" every time he sees me. He's cool. I'm quiet. He allows me to tumble and walk on my hands while the other kids play basketball during PE.
I remember, too, a rare sight in a fancy New England prep school where kids of wealth studied for future enrollment in slick universities. Under my bed was that same barbell I slaved over in the basement in Jersey. It was a curious thing in the dorms of Avon Old Farms, where tennis racquets, jai-alai gear and pictures of home hung on the walls next to the bunks. After studies and before lights out, I rolled the rude iron hunk from its resting place and put it through some hefty motions. Little clinks and clanks could be heard amid the din of young teens releasing their pent-up evening energy.
Rumor had it there wasn't another barbell in all of Connecticut. Drapes is weird.
This less-than-rich scholarship student from Secaucus never saw the inside of a slick university. Jerry, my older brother, was about to graduate Yale when he asked me what school I was going to attend in the fall. I stared at my tuna on whole wheat, shrugged my shoulders and said, "I dunno." Jerry, wisely, "Where there's a will, there's a way."
That was the end of that conversation.
I got a job, ironically, in a metal fabricating factory and bought a pair of 45-pound plates with my first paycheck. Leroy Colbert stashed them in my car.
The sequence of rusty recollections increases and clarifies from here. An adult-like head pops through the bog of dependent youth and I'm on my own to locate and inspect the obstacles of life. I drag the 45s up a flight to my very own one-room apartment, where they join the weights of my childhood at the end of yet another bed. The pile of steel looks impressive and I wonder if the floor of the old flat can sustain the weight. I clean and press 185, a first for me, and, I'm certain, the creaking boards beneath my feet. We're in there.
Seventeen and I still haven't read a muscle magazine. Who needs them? The wall charts are long gone and I'm propelled forward by the same forces that set me in motion a lifetime ago: my imagination, though now that unseen mover is settled in the unconscious halls of my mind.
The mind plays a critical role in weightlifting and building might, you know. And instincts contribute generously if you let them.
Lifting is something I know personally and privately, a diversion, a satisfaction, a voice, an instructor, a secret power and a swell muscle builder. It makes the rough places smooth. Being strong is fun and enabling, impressive and protective.
Before the foot of the bed in that dismal silent room, a temple of sorts, I remember doing barbell rows, stiffarm pullovers, overhead pressing and press-behind-necks, light benches, barbell curls, dips and chins and pushups and lunges. They gave it and me life. Three sets of this and that every day for eight to 15 reps seemed to work.
Some days I had it, some days I didn't; some things never change. Focus was coming slowly, patience remained at a crawl, discipline was being ground into my skull and resolve led the barking pack. Form needed work and muscle identity and recruitment simply took time and practice -- inevitable maturity.
Fortitude quite naturally joined my resolve. Call it the evolution of a musclehead that cannot be hastened.
Still, the iron doesn't move without a lot of hard work and sacrifice, discipline and persistence. After a day's work, there it is… the barbell in front of the bed. On frequent weekends, the weights were transported to my vehicle where they lay scattered in noisy confusion until they reached my out-of-town getaway. Lifting on Saturday and Sunday with no time constraints was particularly appealing; I could wallow and test myself in the tranquility of a quaint cabin (leaky shed) in the north. Getting a life had not yet occurred to me.
The weights seemed to follow me wherever I went -- not like a habit or a puppy or body odor, but like an extension of myself, my expression, my need and desire. You know what I mean. Some kids sang or danced or sketched or played musical instruments or engaged in sports. Some did nothing in particular or hustled or got in trouble. I lifted weights as if it was my duty, my individual responsibility or private obligation.
Unknown to me, lifting was beginning to define who I was.
Then came my first experience with man and weights beyond the limited one-step, two-step lifting in the confines of a bedroom or basement: I joined the YMCA. A raucous group of guys tossed the metal around like it was a bunch of junk, in a room the size of a closet next to the proverbial boiler room. I learned something about fighting for my turn on the bench and lifting more than the other guy. I learned stuff you need to learn and forget before you learn anything at all. The place was a zoo. Six months in a zoo was enough for this animal and I left in the fall.
The Vic Tanny's in Jersey City, my next exposure to exercise beyond my innocent reality, had red rugs, chrome weights, mirrors on every wall, music and girls. I frowned, looked straight ahead and didn't make a peep. I did my first 400-pound bench press with a chrome training bar and a string of nine chrome 20s and one 10 on each side... don't forget the little chrome collars.
Tanny's was a dog-and-pony show, neither of which I was…or am. It closed down one fine day in late winter and I was off to Weider Barbell's stockroom in Union City. Leroy showed me how to do seated dumbbell alternates; I did my first set of squats and moved to California before the heat of summer.
You might say it was there where I enrolled in my first year of university: UCMB, University of California, Muscle Beach. The year was 1963.
One of these years I'll graduate, go out in the world and get a job. Till then, it's one course after another, day after day, learn, learn, learn, practice, practice and practice.
No one knows I have a Masters in Bombing and Blasting.
For some the sky's the limit, for us it's just the start.
Go with God... DD
*****
Take a trip over to our
Musclebuilding Q&A Blog
... where Dave allows us a peek into his email outbox.
Did you sign up for Dave's expanded email yet?
It's free, motivating and priceless!
We'll also send you a link to Dave's free
Body Revival Tips and Hints e-report with your confirmation notice.