The Sun Also Sets Over Missouri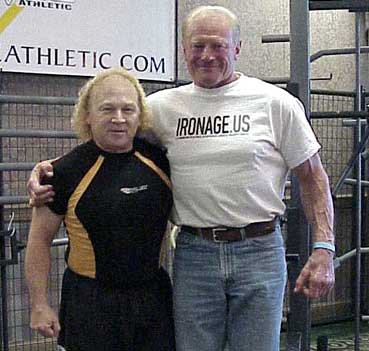 Rickey Dale Crain and Dave in St. Louis,
September 18, 2005 at the US Bench Press Nationals
If you'd like to download the full Draper here newsletter in printable, live-link, pdf format, click here.
I felt like a stray dog at a horse show. The US Bench Press Nationals were held in St. Louis this past weekend and I was there with Torque Athletic displaying the Top Squat, our thick-handle bars and handles and the Dungeon mainframe. 190 lifters, men and women from all over, were there with their friends and families geared up to set some records and have a ton of heavyweight fun. They're a hearty, robust group; to gain details on the competitors and their lifts, check out this link.
Rickey Dale Crain, powerlifting champion from the golden days -- powerlifting and bodybuilding Golden Eras coincide, coincidentally -- was front and center with his high-energy support and colorful arrangement of lifting gear and materials. Get this: He entered his first powerlifting meet the same spring I entered my first physique contest (Mr. N.J.) in 1963. Neither of us has put the weights down since. Weird is good!
The larger-than-average spectators sat in fold-up chairs and came and went as they pleased (who's gonna' stop them?), as the competitors warmed up in an intense backstage area. Strict procedures were followed by each lifter before approaching the bench on the platform; strict judging was in place and the honor and professionalism in presentation was admirable. This was not a slapdash event -- here today, gone tomorrow.
Where's a camera when you need one? One dude with a shaved was seated on two folding chairs. His outstretched arms busted through a t-shirt minus its sleeves, and encompassed the two seats at his sides, where two other skinhead dudes of near-equal bulk -- one-chair per occupant with no room to wiggle -- sat casually as only 375-pounders can. Their necks looked like the columns used to support an interstate overpass and their shoulders, traps and arms mounded together, foothills of the Sierras. Sun was coming through a doorway opened to the west and their taut skin glistened. They drank little cans of beer and didn't move for an hour. Saving their energy for Sunday, the day the big boys let 'er loose.
Lots of meaty, broad shoulders moved about as records were attempted and records were set. I milled around with Odis and the Torque travel-crew, demonstrated our impressive tools and added up the experiences. Of course, the big people love the thick handles, the Top Squat and the Dungeon to accommodate their tough training and add protection and ability to their movements.
As the first day wound down, a small entourage of Mobile Christian Strongmen appeared in the parking lot to cause commotion, demonstrate feats of strength, hold an impromptu strongman contest and praise the Lord. Some off-the-wall entertainment was a welcome lift to the routine lifts we studied with glazing eyes for more than eight hours. Paul Smith, Torque's 32-year-old, 330-pound, six-foot-six, Kentucky-naturally-strong, strongman grinned like a gorilla in love.
As the sun set over Missouri (yes, the sun also sets over Missouri), we moved out to the parking lot and grabbed a folding chair, car bumper, piece of grass or stone curb and watched the events unfold. And it was exactly what we hoped it would be: a boisterous engagement of spiritually energized speakers, mismatched music, crazy stories from powerful real-time strongmen and powerlifters, huge balls of solid concrete being lifted to the shoulder, obscure and awesome tractor parts being deadlifted or carried for distance and speed, chains being snapped, bars of steel twisted into coils and sledge hammers breaking cinder blocks on some enthusiastic youth delicately supported on a bed of nails. I'm next, me, me!
My favorite carnival act was performed by the lovable and persuasive Paul Smith. He bent 10-penny nails in his hands and tossed them to the kids in the crowd for a warm-up. He then moved to the wrecking ball, a common tool found at any ordinary demolition site. Solid steel and the size of a basketball, the 100-pound black beauty is rigged with a stout eyehook for industrial applications. Paul bends over, sticks his middle finger in the eyehook, cleans the hunk to his shoulder and presses it and lowers it gently. Thud. Before the day was over he bent a pound of nails and heaved the wrecking ball 11 times. His finger no longer fit into the eyehook... it was strangely swollen. Paul sez the swelling will be gone in two weeks and the finger will be stronger, the silver lining to every black-and-blue cloud.
On Sunday we were treated to bench pressing attempts and successful completions in the five-, six- and seven-hundred pound range. Plates were flying like pancakes onstage and the spotters, like short-order cooks, were working overtime. I must remind you I'm a mono-minded musclebuilder who loves weight training and has incorporated heavy lifting throughout his lifting efforts. I know the feel and the need, but I know nothing of the sport, as a sport. I am impressed with what I see and saw a gal get three white lights for her 400-plus bench, an 80-year-old guy full of vigor and heart push up 237 easily (not his best) and some big fella set a world drug-free record of 711. I missed the names cuz I'm a major schlump.
The last powerlifting meet I attended was with Laree nearly 20 years ago. It was in an abandoned storefront with newspaper covering the windows, wooden benches for the spectators, yelling instead of mikes, air leaking in from the backdoor, stirring up chalk and dust, moms with squealing kids and a splintery plywood platform for the competition. Anybody could enter; all you needed was 20 bucks.
It seems there are more than four lifting associations with different rules and regulations; some are open and anything goes, some restrict drug use and others don't allow lifting shirts or drugs. The latter seems to be the most authentic test of strength, the former the most... um... impressive and somewhere in between the most popular. Like bodybuilding today with its various facets, dimensions and levels of acceptance. Confuse me! I'm sure some of you out there have this down pat.
I spent a lot of time touring the dead ends and hidden streets of St. Louis with my good IronOnline bud, Tom Canavan and his family. Former gym owners, present-day bombers and lovers of life, we watched the days unfold with curious amazement. It's fun being oddballs in oddball settings. You don't feel strange or out of place in an ordinary world; you realize how strange and out of place the ordinary world is. Round and soft and undermuscled -- eating and sleeping and unaware -- Xbox and Game Boy and iPod.
I periodically ate tuna from a can and drank water from a discarded diet Pepsi container in the packed room of the Holiday Inn where the contest was held. I was wallowing in my peculiar behavior where peculiarity had no bounds. It's the little things of life that make a big difference. Odd is in. In is out.
Here's odd -- for a bomber: the flights back and forth knocked me out.
Eat and get some sleep; see ya next week.
The Bomber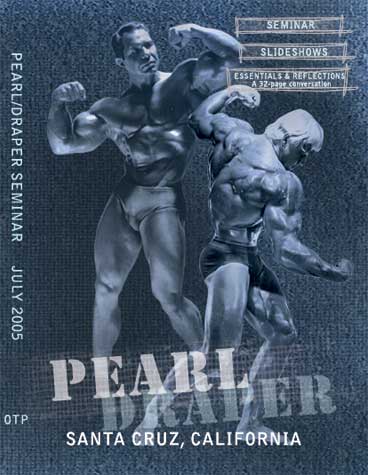 The DVD includes a one-hour-and-fifteen-minute tape of the July seminar, two muscular slide shows, plus a 32-page booklet outlining the subsequent interview between the mighty one, Bill Pearl, and me in which we discuss some favorite subjects untouched by the seminar.
To order your copy of the Bash 05 Seminar dvd with Dave and Bill Pearl click here.
Did you sign up for Dave's expanded email yet?
It's free, motivating and priceless!
We'll also send you a link to Dave's free Body Revival Tips and Hints booklet with your confirmation notice.
May we answer any bodybuilding questions for you in our forum?
If you haven't yet read Dave's bodybuilding book, Brother Iron, Sister Steel, here's more information.
You may also enjoy our ongoing weight training and fitness article blog, which we update with new material several times each week.
Are you in the mood for reading an weight training book excerpt?
Can I tell you about whey protein powders?
Could you use a new 8-week workout routine or a bodypart workout program? Need to learn how to squat or how to deadlift?
Or select a link to the left to discover our most popular pages that are sure to answer all your training questions..