Musclebuilding and Spring Gliding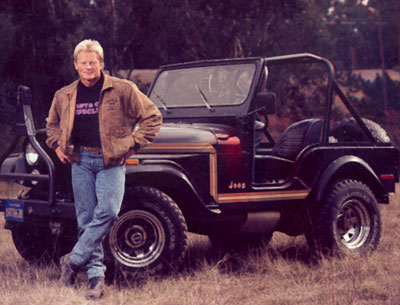 If you'd like to download the full Draper here newsletter in printable, live-link, pdf format, click here.
If you missed part one from February 22, 2007 -- read this first.
April has a nice ring to it, a sweet sound, chimes in a faint breeze. Girls named April are automatically cute -- cover girls, centerfolds and starlets. Warm showers from blue skies come to mind, songbirds and spring flowers, shorts and T-shirts, long days and a convertible with the top down.
April is the month of hope, the month we dream of with longing in the middle of October when the days are grey and we're chilled to the bone... six months till April, a desperately long time.
April is here at last, a time to celebrate.
The greatest way to celebrate an occasion is to not merely recognize it, but to embrace it with wide-open arms, to perceive it in all its fullness, to hold it close and examine it, to know it before it slips away, into the past, into our memory. Stop and smell the roses, we say, before the flower and its fragrance fade in the background.

Spring is a time to rejoice. Bright, tender and fresh, the season inspires life and living, rejuvenation and accelerated growth, a renewal of the mind, a deepening of the soul. Muscleheads yell, "Let's get huge," while ironheads shout, "Let's get ripped." Bombers nod to each other knowingly and rumble, "Time to blast it."
Remember, captains and navigators, "blast it" is a relative term. Blasting it is giving it all you have (without bleeding), taking it to the edge (without slipping), letting 'er rip (without tearing). It's seeking a gratifying pump without exploding, and achieving a significant burn without incinerating. Too few lifters blast it. They cause an occasional pop, a weekly poof or an infrequent boom, but authentic blasting is a past thing.
Some old guy said recently, "New age training methodologies and the muscleman's little helpers have rendered blasting obsolete. Take 12 of these little beauties daily, do six of these pushy-pulley things every other day, eat and grow, boast and rest. Truth: The only thing that grows is the nose."

A recap: My blasting lately has been limited to 60 minutes of wobbling every other day between benches and equipment to sit with gratitude and pump out a set of 8 to 10 reps, sometimes 20 when it's appropriate. I execute three sets of each chosen exercise, practice perfect form and manage to achieve a burn and a pump through complete muscle extension and contraction. I breathe like a racehorse coming in last, though I haven't lost a race once.
Going on six weeks I'm stronger, healthier and more energetic. And Laree is free to jump and play like an unleashed retriever pup at the beach, no longer wiping drool from my grimacing face. We won't soon forget the struggle that's bound us -- it binds us still -- but we do appreciate the loosening of the chords. They dig in and leave their marks.
I'll be nursing my wounds through the spring and well into the summer. That was the plan when the doctor offered me the option to fix what's broke now or fix it later. Later becomes dangerously close to never, or the winter, a miserable time to heal and rejuvenate. The spring and summer are meant for healing and growing, smiling and laughing.
I look out the window and the sun is shining brilliantly on the forest and on our rooftop. Won't be long now, just a matter of time. And speaking of time, this is a perfect time to thank you once again for all your prayers and cards and well-wishes and support. Not one was incidental or obligatory or superficial. They stopped Laree and me in our weary, uncertain tracks. Thanks, bombers; you lifted us up.

So where do we go from here, IronOnliners? I've milked the quadruple bypass for all it's worth, and that's a hard act to follow. I've considered a lobotomy, multiple synthol injections and bushy blond hair implants, but they're slightly goofy and lack the impact. We'll have to settle for a reprint of "20 Inch Guns in 20 Days." Take it or leave it.
I have as of yet to discuss what permanent changes in diet, lifestyle and training I shall make after having undergone the recent repair and renovation. I'm thrilled I need not list among my revisions, "No Camels, no Scotch and no chasing women into the night." Sorry, girls.
Here's a hasty and unrefined review of the modifications ahead:
No mo milk, as suggested in last week's IOL update. I'll add Odwalla juice for carbs and nutrients and double up on Bomber Blend for protein and enjoy a mucus-free life. Don't want to actively engage in the pros and cons of milk products, but anything that causes a cascade of congestion can't be too good for my system. Rats!
I'm trying a sip of soy milk, almond milk and rice milk just to be sociable. I still have an ounce or two of quality cheese in an omelet and an occasional (every day or every other day) serving of premium yogurt for digestive bacteria. I'm bad.
I'm leaning toward half the beef... um... maybe two thirds, to suit my realistic musclebuilding needs. Overloading the system with exercise and food, no matter how wholesome they are, is no longer wise when time and age move to the forefront. I'll continue to take it to the edge and hold it there. No more leaping off cliffs, rock faces or mountain tops, not without a bungy cord or net. Repelling is fun.
I'll work out according to urge, good order, convenience, need, ability and responsibility. I don't work for the Man so I come and go as I please (and as Laree permits -- she's generous and understanding and can handle my company for only so long before she becomes exasperated… "Go away"). This will vary from three to four workouts a week, or every other day, for 60 to 90 minutes. I'll know more as time goes by. My 'blasting it' will be relative. Snap, Crackle, Pop!
And now some thoughts and questions that have come to mind.
What about squatting, deadlifting and heavy, low-rep, one-rep-max workouts? I'll try some full-range, light-weight squats (bar plus 25s) over the weekend. I'll deadlift with the same weight and make a brief report in the next newsletter.
What bodyweight shall I maintain that is comfortable and wise? 215 is my hope as I creep up the scale from a 202-pound low. I'm now 210, and this without my daily consumption of milk products -- 16-ounces of cottage cheese, 2 quarts of low fat milk. Gag, snort.
One could argue 185 pounds at six feet is a smarter bodyweight, not a small man by any means, but a stiff breeze I fear would take my bones for a ride in the sky... not exactly what I call bombing or flying high. As it is I feel like Doctor Percival Milktoast, Professor of Pre-dawn Philosophy at Doolittle University, the stooped feller with the cane and the jitters.
Hands and wrists and joints, how are they faring after a month's pause from consistent overload? Any healing, any relief or reduced tenderness? Too hard to tell as I cannot yet apply heavy action. They're tight, not loose or stiff -- that's good. They're rested, yet generally weak -- that's expected, it also sucks. Knees are painfree and the legs are strong in the leg press and extension, but they are a bit wobbly as I've jokingly indicated, and they die when I take them for a walk. I'm working on it. Walking uphill is murder.
Stress appears in many forms and must be attended with calm intelligence. Big problem immediately, stressful in itself. Stress, the elephant in the room, must be eliminated. No more TV or contact with the hostile outside world. Just the iron, good food and IOL. What more can one ask for?
We do the best we can. I'll seek feedback on the many iffy subjects from doctors and knowledgeable friends and anyone else who tells me what I want to hear. I'll continue close monitoring. I'll pray and hope and dream.
I shall not enter the Mr. Oly Contest for Musty Masters in the foreseeable future. This could change if they reinstate pairs posing and Laree revives her interest in competition. We'll slip into our coordinated (and brief) fuchsia outfits and recall our slick moves to Sunny and Cher's timeless "I've Got You Babe." Up you go, girl... point your toes, arch your back and reach for the sky... all teeth.
Unlikely, the more I think about it.
As I outline my cautions and limitations, I sound like a coward in retreat. This is not true. I still hold tightly my sword and shield and proceed with daring. Lunging and dodging define my movements, swiftness and accuracy, whereas reckless abandon is practiced briefly by shortsighted, short-lived fools. Has anyone seen my Teddy, brown, one eye, scrunched nose?
My winged craft is currently suited for gliding. Gliding is a patient art form and enables one to engage one's finer senses entirely, an instructive and most gratifying experience.

Here's to gliding... Cheers and gentle breezes... dd
If you missed part one from February 22, 2007 -- read this.
Laree's late addition: I pulled together our records of Dave's path to bypass (not that you'd want to follow him that far), and it's something most should put some effort into.
I know, right after your taxes are done. Alright, do it then. And, yes, I know that comes after cleaning the garage and any other nasty task you put off just to delay tax prep.
The list is a set of blood tests everyone should, er.. demand, and flows into the testing Dave went through to determine the extent of his heart's failings. As Dave did in 2000 when Bill Keyes had his bypass surgery, those of you with shortness of breath symptoms will want to move on this rather than wait it out.
Here's the discussion on tests for heart disease, which will surely change as the researchers give us more clear data.
Apparently a true, non-invasive arterial test is about 10 years out, not close enough for most of us to wait on. Get on this right after tax season, and before you get distracted by summer.
THAT BOMBER BLEND
Quick note: To avoid mucus formation and the resultant throat-clearing that guarantees thunderous pain in the wired sternum, I ingested no milk products to this date. I've been a dairy man all my life. Today I mixed two scoops of Bomber Blend in cold water and guzzled it like a wild pig. No mucus, color returned to my face, I felt a warm pump all over and I laughed for no apparent reason, the first time in three weeks. Go figure.
I'm seriously considering the elimination of milk from my diet, maintaining some yogurt and cottage cheese and increasing my already substantial intake of the Bomber Blend. Man against mucus!
BOMB SQUAD FLASH
IronOnline, our weekly newsletter, has been delivered to mailboxes and shared for eight years.

Our endeavor began as a weekend curiosity (whatsa-web-site?) at the brink of 1999 and grew into a gazillion (3,000) page wonder. We enjoy each other, we encourage each other, we inform each other, we depend on each other, and one might say we know each other.

Aware of this community relationship, Laree and I do our best to provide the best of everything to make your muscle journey productive, enjoyable and complete: inspiration, motivation, information, instruction, explanation, suggestions and advice in muscle and might, exercise and nutrition, attitude and behavior.

Among our ranks are some of the brightest trainers who have been there, done that, and delight in doing it still. They have joined forces with us to offer devoted bombers direct personal training through IOL. Here's an opportunity to engage in one-on-one training with IOL's finest to progress confidently and vigorously in your training -- workouts, menus and motivation.

This gallant team of muscle minds and iron heads are long-time friends. They are knowledgeable, understanding, honest and generous benefactors who will help you over the obstacles that drive us Crazy.
Enjoy and trust them.
IOL Online Personal Training Program
Did you sign up for Dave's expanded email yet?
It's free, motivating and priceless!
We'll also send you a link to Dave's free Body Revival Tips and Hints booklet with your confirmation notice.


BILL PEARL/DAVE DRAPER LIVE SEMINAR DVD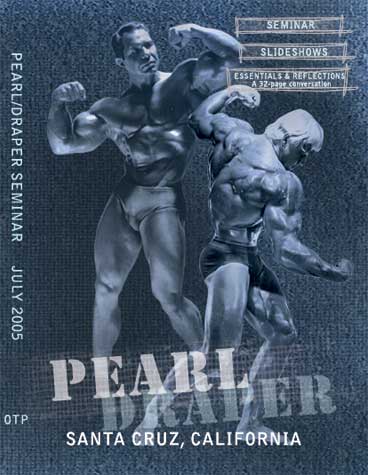 The Package includes a one-hour-and-fifteen-minute tape of the July seminar, two muscular slide shows, plus a 32-page booklet outlining the subsequent interview between the mighty one, Bill Pearl, and me in which we discuss some favorite subjects untouched by the seminar. ~Dave
Cut through the confusion! Grab your copy Brother Iron Sister Steel to make your training path clear.
Readers agree: Dave new book, Iron On My Mind, is non-stop inspirational reading.
Our IronOnline Forum will answer your training and nutriton questions right here, right now.
Golden Era fans will rejoice in this excerpt from West Coast Bodybuilding Scene.
Are your shoulders tight? Do your shoulders hurt when you squat? It's practically a miracle! Dave's Top Squat assists sqatters with shoulder problems.