Better Now Than Never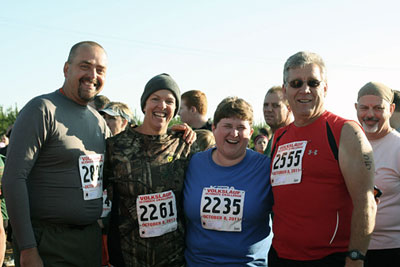 Mark, Lori, Mandy & Bob—click here to read the Volkslauf story

Download the full Draper here newsletter
in printable, live-link, pdf format, here.

I've been enjoying some pretty good workouts lately -- commendable pace, gratifying rhythm, creative form, calculated balance and sufficient exertion. The usual effort is required to lug my well-used bone bag to the gym, but once the lovable flogging begins. I recall the pleasure and worth of the pain. I'm tough. I'm bad. I'm good.
I sprawl contentedly on the floor the evening of the iron therapy, exchange bright discourse with Laree, watch political and action figures move across the TV screen and consume nutritious foodstuff. Ah, the good life. The following day I'm a cheery feel-good guy with positive observations, uplifting comments and refreshing fortification for the downhearted. You can do this… press on… never quit, never let go.
By day three I'm a wreck. The ole' 1942 customized pickup, though made in the USA with American steel, exposes its flaws. The old Blond Bomber, he ain't what he used to be. The fenders are dented, the chassis is bented, the engine is spented, time is lented and the payments are rented. Muscle repair is slow and difficult among vintage workhorses, and injury is only a set, a rep and heartbeat away. I ache all over, I have no get-up and go and drab clouds gather overhead. I need a therapeutic nap in still, quiet darkness -- rest, repair, reevaluate and rise up. I'm whooped. But I'm also blessed and obsessed. Never quit. I love it.

Day four, lo and behold, I'm ready for action.
Got a minute? Here's an excerpt from a day gone by when we were a decade younger (11 years to be exact), less used and less wise:
One of the foremost problems among ironheads is finding the time to work out with the demands of life balanced precariously on their shoulders. A writer from Down Under who finds the info, discussions and reviews we share "living inspiration" genuinely exclaims he has no time to train between parenting, work and study. "How do others fit workouts into their schedules?" he asks. I hear the same pleas from long-absent members of the gym and those reluctant to join because they are world-consumed. They are bound in a predicament, which must be undone quickly if they are to survive... to aspire.

Easy for you to say, Draper, you live in a gym and eat barbell soup. Still, I am an absolute observer who between sets considers what it must be like to be an over-extended, iron-starved and denied musclehead. The thought causes me to ache. Let's work on this together as if standing on a dangerous ledge and contemplating a way down other than jumping.
Something's got to give. Without compromising family, studies and work, there must be adequate room for you and your health: body, mind and spirit. Think. We have no room or time for clichés today. What good are your plans, hopes and dreams without your health? How effective are you in attaining them without energy, endurance and internal confidence? Troubled with a sense of neglect and guilt, how heavily are you stifled in your day-to-day free spirit communication? Doesn't the family you serve and love deserve more? Shouldn't they be included in the commendable, life-preserving designs you envision? You are a very good person about to take small steps in relief of a long plunge downward. Start by persuading your family (your best friends) to join you. Teamwork, sharing, encouragement and all that neat stuff make the going sweet.
Times are tough and there's no better time for you to get tough than now. Be prepared. You may not conquer the beast before you, but you sure as heck will not let him gain ground in your territory. A day will come soon enough when the needs and good intentions set in motion today will direct you to more favorable conditions in which you can act more aggressively. You must trust the old mystery of life that positive plans and positive actions beget positive effects.
Immediately, three critical areas of focus that define your pursuit come to my metal head: Commitment, Diet and Exercise. They need to be addressed as our first solid steps forward. Let's take them one at a time.
Commitment is one of those words that has been overused and has lost its impact, yet it is the leader of the trio. Put it this way: How important to you is your health and fitness, your getting in shape, your building a lean, strong and muscular body? Review the benefits of exercise and its companions -- the expression, the discipline, the heart, the lungs, the muscle tone, the reward of a workout well done -- you know the endless list we go over from time to time simply because it's fascinating, delightful and supportive. You need to remind yourself of their inestimable importance to place them high on your chart without feeling selfish, foolish or obsessed. Fact is, we are responsible to work out and eat right. Put them near the top where they belong. Incidentally, you'll notice that commitment didn't take any time out of your busy daily schedule. One down.
Number two of the "big three" is diet, a nasty word in the vocabulary of modern man. You've heard more than once that what you eat and when accounts for half the fitness and muscle-building challenge. The best part of the smart eating is it doesn't consume any more time than dumb eating. All it requires is the nutritional ABCs and the establishment of a few cool habits.
At this point of our quest we are interested in clearing a field upon which to proceed. Some of us get to overtrain in a gym that has 30 pieces of Cybex, Hammer and BodyMasters and 20 tons of barbells and dumbbells. Some us go out to the garage of iron or down into the basement of steel. Some of us need to invent and improvise starting now. We must lean hard against the matter before us to discover that it is round and once it starts rolling it builds up inspiring momentum. Ignore the matter and over us it rolls with the gravity of time.
Consider my brief shower of words before they evaporate. That one cannot blast it today does not mean one will not in the future. Stay prepared and do your mighty best to do what you can these days. Don't deteriorate day by day till you're one of... er... them.
A tip of the wings to ya, Bombers.
Draper
---
Gray Cook's Movement—now out in paperback!
---
Take a trip over to our
New Musclebuilding Q&A Blog
... where Dave allows us a peek into his email outbox.
Did you sign up for Dave's expanded email yet?
It's free, motivating and priceless!
We'll also send you a link to Dave's free
Body Revival Tips and Hints e-report with your confirmation notice.