Autumn Storm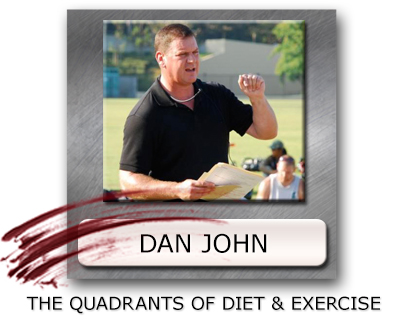 Click here for information on Dan John's new quadrants lecture
Download the full Draper here newsletter
in printable, live-link, pdf format, here.

Friday morning, September 21st, a funny thing happened on the way to the gym:
I stopped at my cardiologist's office for my monthly blood test and, since I was there, an assessment of a peculiar shift in position of my recently installed second pacemaker.
"I think the tiny ticker-timer took a tacky turn toward Trouble Town today, terrific nurse Trudy (TNT)."
My principal focus was on my anticipated bi-tri blast and dazzling dumbbell press 'n pullover superset, just enough to get the lurching B-70 right with the wild 'n crazy world below. Seems after months of tinkering, I was finally dialing in my semi-weekly flight pattern, a healthy and desirable cross between too little and too much -- sets and reps, pace, exertion and time.
Vintage bombers can be very tricky contraptions to adjust.
Test the blood, check the pacer, take the blood pressure, fill the tank with super octane and I'll be on my way. Just kidding, Trudy Terrific, make that regular.
Not so fast, Speedo. You're going to the Emergency Room… now.
Trudy doesn't joke and I don't joke with Trudy. Terrific! Ten minutes later I was sitting on a very stiff and sterile all-white bed in the Santa Cruz Dominican Hospital ER; no pump, no burn, no sweat and my striations were fading fast.
Do I need a lawyer? Can I call my wife? Where're you sticking that thing?
By now the pacemaker was plainly making a slow egress from my left upper pectoral muscle. Thin black and green wires protruded from taught, bloodied skin and I wore my flabbergasted default expression of total innocence. Don't look at me. I didn't do it. I just live here.
Friday is a bad day to have a hospital emergency. Doctors are home for the weekend and nurses are thinly staffed. It was a long weekend.
Any day is a bad day for a pacemaker to rebel and depart from its prescribed location, dragging with it the three leads connected directly to the heart. I was transferred, in due time, whatever that is and whenever that was, to Stanford Hospital Cardiac Surveillance, an advanced treatment center 50 miles north in Palo Alto. It was a long week.
The roving device was eventually removed (seven hours, one lovely evening), but not without leaving a hunky hemotoma from clavicle to navel, fertile ground for infection. The days began to blur. Laree brought me care packages (Bomber Blend, beef jerky, Super Spectrim vitamins) over hill and dale. The world turned.
Another pacing unit was installed somewhere in the right chest sometime in mid-October and I was released minus 10 pounds after 15 days of cardiac captivity. Thank God, thank Laree, thank the doctors and thank the nurses. I could write a cheesy paperback.
And here we are today, two weeks later. In that time the world continued to turn, I did not work out, I did not write, muscles evaporated, words eroded, I ate flawlessly, our newsletter mailing software went down for three weeks making contact with you impossible, Laree finalized one more highly instructional book, Intervention, by Dan John -- a year-long mission, Hallelujah --and Halloween is around the corner… or is it the presidential election? Who can remember?
Who cares? We're back, loyal bombers, and that's what matters. I go to the gym tomorrow for the first time since mid-September -- the happy iron hunting grounds. Gonna bag me a wild dumbbell, stuff it and mount it on a wall.
Got a spare wall… anybody…?
The beat goes on… God's Speed… Dave
-----
You don't have to sign up for Facebook to read Dave's commentary and interactions on his Facebook page. Dave is on Facebook here:
http://www.facebook.com/bodybuilderdavedraper
Dave is on Twitter, here:
---
Take a trip over to our
Musclebuilding Q&A Blog
... where Dave allows us a peek into his email outbox.
Did you sign up for Dave's expanded email yet?
It's free, motivating and priceless!
We'll also send you a link to Dave's free
Body Revival Tips and Hints e-report with your confirmation notice.